About Walworth Road
Walworth Road is Elephant and Castle's high street. One mile long, it runs from the Elephant and Castle junction in the north to Burgess Park in the south.
The street began life as a simple route through Walworth Common back in the days when the area was mainly farmland. By the late 18th century it had developed into a significant London suburb and today it's home to around 400 businesses and more than 5,000 people.
Walworth Road is a classic London high street: a bustling, thriving microcosm of the city in all its infinite variety and energy. Its trading history spans the centuries from the ancient East Street Market through to the long-gone grand Victorian stores (for which the area was once famed) and on to today's eclectic mix of small shops; supermarkets; nail bars; furniture and electrical retailers; big name stores; pubs and small, independent cafes that serve food from across the globe.
The streetscape and architecture is equally diverse. From the soaring Strata tower to the stately red brick façades of Walworth Town Hall and Manor Place Baths; from the elegant Georgian terrace that once housed the Labour Party HQ to the sleek 21st century apartments at Printworks, Walworth Road embodies a cross-section of London history.
The street is bookended by two major parks, the new Elephant Park in the north and the vast Burgess Park in the south. In-between, the street is dotted with green public spaces, including the new Walworth Square.
Over the years, Walworth Road and its surrounds have been home to some famous faces. Charlie Chaplin is reputed to have been born on East Street (referenced in his classic 1917 film Easy Street). Two of Britain's greatest scientists – Michael Faraday, a pioneer in the field of electro-magnetism and Charles Babbage, widely regarded as the father of modern computing – were both born in the area (just months apart, in 1791). And Walworth Road was also home to the early feminist, Mary Wollstonecraft and more recently to the esoteric, 20th century artist, Austin Osman Spare.
Regeneration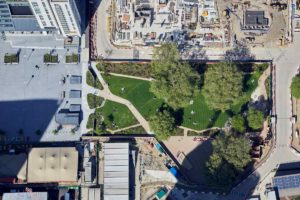 Walworth Road has changed constantly over the last 300 years and continues to do so today.
The Elephant and Castle regeneration will deliver Walworth the largest new park in central London for 70 years; a brand new public square (now open, next to the town hall) and a new town centre at the northern end of Walworth Road where the shopping centre stands today.
It will also restore some of the Walworth street pattern of old; streets that were lost to German bombs during WW2 and the demolitions of the 1960s. The regeneration will reconnect Walworth Road to the centre of Elephant and Castle, creating new routes that favour pedestrians over cars. These developments promise to make the area a much more pleasant environment for shoppers and visitors as well as those who live and work in the neighbourhood. Local retailers and businesses also stand to benefit from a big boost in trade thanks to these changes.
Explore Walworth Road
There's a huge amount to see and do on Walworth Road. Working roughly north to south, here are just a few highlights to get you started on your journey.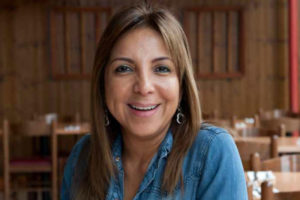 La Bodeguita
The soon to be redeveloped shopping centre sits at the top of Walworth Road where it meets Newington Butts. La Bodeguita, located on the ground floor, overlooking this junction, is a popular Colombian restaurant which draws in the Latin American community from across the city for great food, pulsating music and late-night dancing. Find out more
Elephant Park
Elephant Park is a major development at the top of Walworth Road. As well as thousands of new homes, the development includes the largest new park to be built in central London for 70 years. The first part of the park is already open and work is progressing well on the next phase of the development. Find out more
Dragon Castle
Behind those big red double-doors, opposite Elephant Park, lies the Dragon Castle, Walworth's celebrated Chinese restaurant. Hailed by restaurant critics as the best Chinese food outside of Soho, this giant 400-seater restaurant is at its most popular on Sundays when people pour in from across town for Dim Sum. Find out more
Hotel Elephant
Located just-off Walworth Road, Hotel Elephant is a not-for-profit company that supports local artists and creative enterprise. It provides affordable workspace and runs a programme of education projects, exhibitions, events and film screenings. Find them on Spare Street – a row of converted railway arches named in honour of Walworth artist Austin Osman Spare. Find out more
Walworth Town Hall
Walworth Town Hall dates back to 1865. It has served many municipal purposes over the past 150 years and, until recently, it was also home to Walworth's Cuming Museum. Southwark Council is working with General Projects to restore the buildings (following a fire in 2013). When complete, the restored town hall will open onto the brand new Walworth Square (built in 2018). Find out more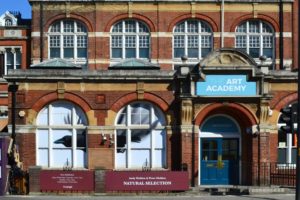 The Art Academy
The Art Academy is making use of the Newington Library building next door to the town hall. The library was put out of action by the same fire as the town hall and now The Art Academy is using the building on a temporary basis for studios, exhibitions and classes. Find out more
140-152 Walworth Road
This historic Georgian terrace, opposite the town hall, was once the headquarters for the national Labour Party and many people still refer to it as John Smith House after the former party leader. Today, part of it is used as a hotel, the Safestay, and the other half is a new pub, the Manor of Walworth, which opened in 2018.
Superarts
Just off Walworth Road on Larcom Street, Superarts has been teaching local children dance and performing arts for over 50 years. Run by Susan and Irene Hayes, many former pupils have gone on to perform in major West End shows while the current crop can regularly be found performing at events around Elephant and Castle and beyond. Find out more
The Tankard Pub
The Tankard is an attractive Victorian pub built in mock Tudor style, complete with patterned chimney. A fixture on Walworth Road since the 1860s, it's the kind of traditional, no-frills, single-room pub that you don't see so often these days. A simple but welcoming place for locals to get together, catch-up and gossip over a pint – once upon a time most pubs were like this.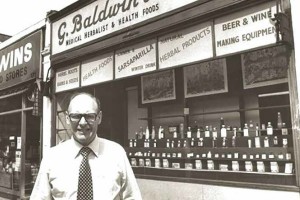 Baldwins Apothecary
G Baldwin & Co is London's oldest herbalist. The business was founded on Walworth Road in 1844 and has been here ever since. Celebrated for its authentic sarsaparilla, today Baldwins is best known as a health food shop which supplies essential oils, tinctures and all manner of health products. Find out more
Pullens Yards
Just off Walworth Road, Pullens Yards, with its cobblestones and handsome brickwork, has the feel of a nostalgic film set. Indeed, several film directors have used this charming Walworth enclave as a location. The Yards were purpose built for crafts people and small traders in the 1870s and they're still home to silversmiths, ceramicists, fashion designers and artists today. They even have their own lute maker. Find out more
Electric Elephant Cafe
Taking pride of place on the corner of Iliffe Yard and Crampton Street, the Electric Elephant is a popular lunch spot for the people who live and work in and around Pullens Yards. Voted best cafe in Elephant and Castle by the readers of Time Out, the Electric Elephant has been delighting the local community for more than a decade. The cafe offers catering services around the neighbourhood and is always one of the main attractions at the regular Pullens Yards Open Studio events. Find out more 
Husky Studios
A short walk from the Tankard on Amelia street, you'll find Husky Studios. These are some of the largest recording and rehearsal spaces available in central London. Coming up to their 40th anniversary, Husky's have played host to a diverse range of producers, choreographers, record labels and bands. Recent customers include Little Mix and The X-Factor Find out more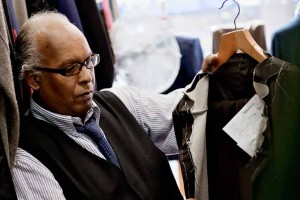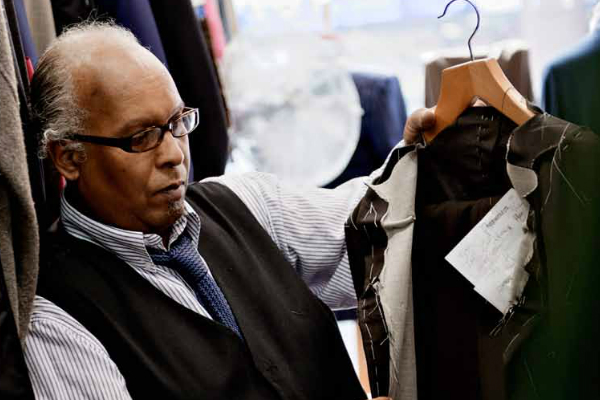 Threadneedleman
Threadneedleman is a traditional tailors creating sharp suits for discerning gentlemen. There's been a tailors at 187 Walworth Road for almost a century. Owner, George Dyer has been in the trade 40 years and he's run the Walworth business since the mid 90s. Find out more
Amore Cafe
Amore is a popular local cafe and the perfect place to visit for a hearty full English. Always doing a brisk trade, Amore serves up all the traditional fare you'd expect from a small high street cafe alongside a neat line in cakes, tasty paninis and an endless supply of fresh, hot, Italian coffee. 
Manor Place Baths
Manor Place Baths opened in 1898. They were an important facility for the community at a time when most homes in the area didn't have hot water let alone bathrooms. The bath house complex provided people with a place to wash, do their laundry and to swim and exercise as well. It also had a sideline, hosting boxing matches, and was one of London's most renowned boxing venues for 70 years. Today the Grade II listed building is being converted into new homes along with the recycling depot next door. Find out more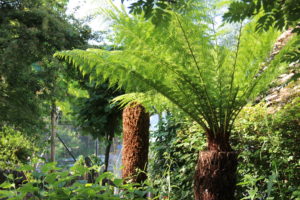 Walworth Garden
Walworth Garden is a green haven on Manor Place, off Walworth Road. Walworth Garden began in 1987 when a group of local residents reclaimed a derelict street corner to create a community garden. Today it's become the focal point for a local charity dedicated to changing lives through horticulture. Find out more
Mama Thai
This Thai restaurant is a big favourite amongst the local community. Located on Walworth Road since 2008, it's the third successful restaurant in a row for Ameer Khasru and Chalor Santhaveesuk who've both been in the restaurant business for more than thirty years. Find out more
Lynne's Electrical Superstore
Lynne's has been trading on Walworth Road for more than 60 years. A traditional business supplying all manner of electrical goods, Lynne's has been the place to go for a fridge, washing machine, TV or radio since the 1960s. In an era of internet shopping and big brand chains, Lynne's continues to fly the flag for independent high street retail. Find out more
Schwar and Co
Schwar and Co is a family run jewellers. Based on Walworth Road since 1838 they can probably lay claim to being Walworth's oldest (continuously trading) business. Specialists in buying and selling mainly gold and diamond pieces, Schwar and Co have been the go-to people for generations of local people looking for the personal touch.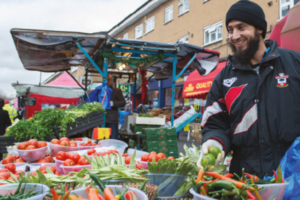 East Street Market
East Street, known locally as East Lane (or just The Lane) is home to one of the oldest markets in London (dating back to the 16th century). The market ran the length of Walworth Road from the 1800s up until the advent of the trams when it was moved off the main road and onto East Street. Today it boasts more than 130 stalls, selling everything from fresh fruit and veg to fabric and clothes; handbags to household goods. East Street is also home to market pub The Good Intent and the 55 East enterprise centre. Find out more
La Luna
La Luna has been serving up authentic, Italian food for a quarter of a century, including their trademark pizzas. The owner, Antonio Adiletta (originally from Salarno) worked as a chef all over the world before taking over at La Luna in 2011. The restaurant still regularly gets five-star reviews from customers on websites like Trip Advisor. Find out more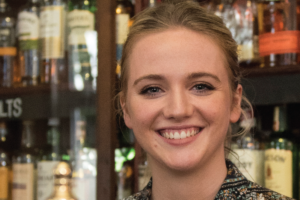 The Beehive Pub
The Beehive Pub dates back to the 1780s. Once part of the Montpelier Tea Gardens and later the Surrey Zoological Gardens, today the pub sits next to the tranquil oasis of what's become Pasley Park – part of the beautiful, Georgian Sutherland Square conservation area. The McNicholas family have run the pub for 30 odd years and during their tenure it's acquired a reputation as the best place in Walworth for a traditional Sunday roast. Find out more
St Peters and Inspire
Nearly 200 years old, St Peters is a Grade 1 listed Anglican church in Liverpool Grove. Built in 1823, the church was designed by Sir John Soane who also designed the Bank of England building and the Dulwich Picture Gallery. The crypt at St Peters is home to Inspire, a local charity which runs an independent community centre alongside a range of charitable projects. Find out more
Louie Louie
Named after the classic 50s R&B record, new kid on the block, Louie Louie has rapidly established itself as one of the neighbourhood's coolest hangouts. Founded by DJ Chris Greenwood and the team behind nearby Fowlds Café, Louie Louie is a café by day and a bar/restaurant by night. It hosts regular residencies from a rotating cast of chefs who exemplify the best new cooking that London has to offer. Find out more
Orbit Beers
Tucked away in Fielding Street's railway arches (just off Walworth Road) Orbit combines owner Robert Middleton's passion for craft beer with his lifelong love of indie music. Established in 2014, the self proclaimed "Hi-fidelity brewery" makes a range of delicious ales all named in honour of the big names of indie. You can try a drop of Nico, Peel or Neu at one of their regular tasting sessions or at one of the many nearby outlets, including Louie Louie, the Longwave bar and the Beehive. Find out more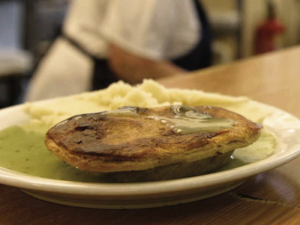 Arments
In contrast to Louie Louie, Arments has been a stalwart of Walworth dining since 1914. The proud holder of a heritage blue plaque, this classic Pie and Mash shop eschews fickle fashions and fads to continue serving the local community in the manner that's suited them, just fine, for more than a century. But that's not to say they're immune to changing times. These days you can order a 'Pie in a Box' for delivery and even their vegetarian fans get a choice of two different pies to slather with Arments' old-school green liquor. Find out more
Bayroot
Bayroot is a popular Lebanese restaurant located just at the point where Walworth Road becomes Camberwell Road. A big favourite amongst locals, Bayroot regularly gets top ratings on restaurant review sites.  Whether you're after a zingy, fresh salad or an indulgent meat platter, Bayroot is the place to go for some of the best middle eastern dishes in the Elephant (be sure to try the tabbouleh and hummus). Find out more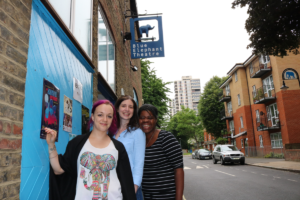 Blue Elephant Theatre
Just south of Walworth Road, you'll find this small but immensely energetic, community theatre. Opened in 1999 by writer and director Antonio Ribeiro, the Blue Elephant was set up as a place for emerging artists to present new work; a tradition that it continues to this day. It also runs an extensive programme of theatre workshops and activities for young people in the area. Find out more
Burgess Park
The last stop before Camberwell is the immensely popular Burgess Park. This huge green space was created in stages following the Second World War. It incorporates areas destroyed by the Blitz and later demolitions and covers the route of the old Grand Surrey Canal (now infilled). As well as being a beautiful and peaceful place to walk, cycle or have a picnic, Burgess Park includes a number of attractions which pull in visitors from across south London. These include an Olympic class BMX track (which opened in 2013) and Chumleigh Gardens, home to a global array of plants designed to reflect the diversity of the local community. Find out more