Born in Smithfield in 1886, Spare's precocious talent for drawing was noticed at an early age by his policeman father. The boy was unusually good and his father encouraged him.
In 1894, the family moved south of the river to Kennington Park Gardens. After leaving school, aged 13, Spare enrolled in evening classes at Lambeth School of Art where he began to win awards in recognition of his talent. At the same time, he started an apprenticeship at Whitefriars Glass before moving on to Caustons printers in Clapham, and it wouldn't be long before he began his career as an illustrator and artist in his own right.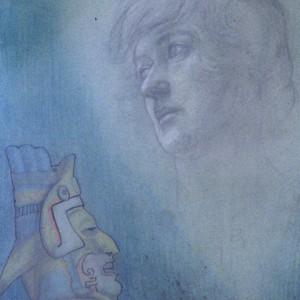 In 1904, aged just 17, he got his first big break with an exhibition at the Newington Public Library on Walworth Road (currently home to The Art Academy). This was quickly followed by a second when his proud father sent two of his works to the Royal Academy. They accepted one of the pieces and Austin became the Academy's youngest ever exhibitor.
This could have been his passport to artistic fame and success. The newspapers loved the idea of this unusual youth and hailed him as a young genius. Spare himself appears to have cultivated a suitable public persona to match, along with a wild-haired 'artistic' appearance.
Whether this was intentional or not, he began a long career of courting the press and was always able to supply journalists with a good quote, even in his darker days. But Spare claimed to reject the conventional art world and was already exploring the fantastical fringes of his imagination.
His best 'conventional' talent was as a figurative artist and draughtsman. His surviving portraits, especially those done during his time as a war artist during the First World War, are finely done and often moving. Many of these are held by Elephant and Castle's Imperial War Museum.
However, he much preferred to follow what he saw as the road-less-travelled. He developed his own coded language, signs and symbols based on the ancient mystical world, paganism, death cults and magic. His abstract, dream-like style was full of hidden meaning and he explored 'automatic drawing' whereby he created his work in a trance-like state. His art mapped a journey through his own mind and internal landscape long before it became an acceptable part of being an artist.
His abstract, dream-like style was full of hidden meaning
Unsurprisingly, his work wasn't to everyone's taste but he refused to pander to the ordinary art-buying market. As a consequence, Spare began to lose his fame almost as fast as he'd found it.
Undeterred by his increasing obscurity, he started to throw his energy into putting on his own exhibitions and publishing self-illustrated books, mixing art, myth and philosophy based on his vision (and visions). He became acquainted with the occultist, Aleister Crowley but eventually rejected both the man and his ideas to pursue his own, unique Spare view of the world.
In 1936, after years of moving around south London, he settled at 56a Walworth Road; creating a studio above the loading bay of Woolworths. He drew portraits of his neighbours and also taught many of them art in his evening classes at the studio. His local portraits remain some of his most fresh and engaging work. He hung his art in pubs such as the Temple Bar on Walworth Road and believed that art should be available to people cheaply.
The studio suffered a direct hit during the Blitz of 1941. Spare was injured, which led to temporary paralysis of his hands. But his mind also suffered a blow.
He became depressed and, having lost his home and studio and seen his neighbourhood flattened by bombs, he hit a low point. After a period of desperation he got a basement room in Brixton and, although battered and penniless, he put on a stoic face and began to work again. His visitors all reported that he remained a charismatic man, with real presence, charm, humour and self-assurance – something he'd only lost temporarily, during the war.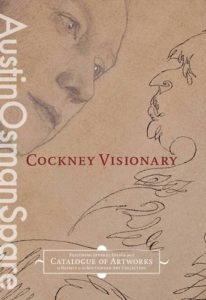 Curious art world contacts began to venture to the run-down area he now called home, encouraging him to publish and exhibit once more.
In 1953 he was getting ready for his new show at the White Bear in Kennington and things were looking up. However, due to a mix up over publicity, it flopped. He was disappointed and started to give interviews, wherever he could, to drum up business, including one for BBC radio in 1955. His talk of magic proved controversial and complaints poured in from the listeners. This new notoriety might have revived his fortunes but, in May 1956, Spare died after a burst appendix and other ailments had taken their toll.
His art has rarely been exhibited since, yet he is widely collected and his work retains a somewhat underground appeal, fuelled by the interest of famous rock stars (including Led Zeppelin's Jimmy Page) and other performers and artists.
The Atlantis bookshop (near the British Museum) occasionally shows his work and Elephant and Castle's Morley Gallery has also put on exhibitions.
In 2010, Southwark Council's Cuming Museum used a number of pieces from its own collection as the basis for a show, Fallen Visionary, held in the very same building as Spare's first exhibition more than a century earlier.
The art curator at the time, Chris Jordan (assisted by guest curator, Stephen Pochin and the Cuming team) designed the exhibition, which featured 80 works mostly from private collectors. The exhibition catalogue, Cockney Visionary is still available from Southwark's  Local History Library along with an accompanying DVD, The Bones go Last.
Helped by television coverage from graphic novelist, Alan Moore on the BBC's Culture Show, the exhibition went on to become the museum's most popular show to date.
In 2016 the council memorialised Spare by naming a new street (just off Walworth Road) in his honour.
Part of the emerging Low Line, Spare Street – created from a row of disused railway arches – is now home to local arts organisation Hotel Elephant. Spare would have approved – both of the practicality and of the fact that his name would echo around his beloved Elephant and Castle once more.
More information about Austin Osman Spare can be found in the Local History Library and some of his work can be seen online in Southwark Council's digital heritage collection.
A version of this article was first published in the Elephant Magazine, Winter 2016