Urban Elephant Festival: 29-31 July
4 July 2022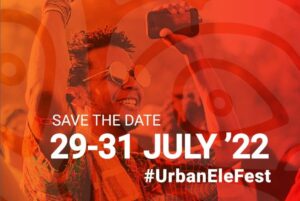 Urban Elephant is a free, colourful, vibrant and unique community arts festival coming to Elephant and Castle in July.
This family-friendly festival will take place across several sites in both Walworth and Elephant and Castle (over the course of three days) and you can expect to see the very best in contemporary urban street art and theatre, including; music, circus, magic, dance, puppetry and much more.
The festival is being run in conjunction with the Elephant and Castle Business Forum (established by the Elephant and Castle Town Centre team) and aims to reconnect Walworth Road with Elephant and Castle and to promote trade throughout the whole neighourhood.
The festival has been funded by Southwark Council's High Street Recovery Fund with additional support from Lendlease, Get Living and Notting Hill Genesis.
Give me the Sun 
1 July 2022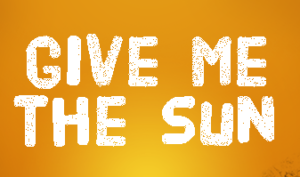 Give Me the Sun is a beautiful and compelling new play, exploring what happens when too much is left unsaid for too long.
Coming to Blue Elephant Theatre this month, the play reveals what happens when a seemingly perfect father-son relationship unravels to reveal grief, loss and loneliness.
The production is part of an Arts Council funded series of works exploring intergenerational relationships between London-born children and parents from a different culture.  
Written by Mamet Leigh, a pioneer of the Tehran Underground Theatre Movement, Give Me the Sun addresses the complexity of finding your place in a new country and how different that can be for each person.
The plays runs at the Blue Elephant Theatre from 12 to 30 July.
£50k in grants awarded for local projects
28 June 2022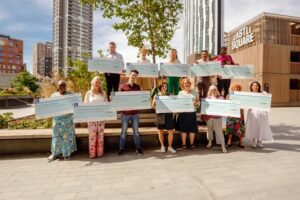 The Elephant and Castle Town Centre team and Get Living have announced the successful applicants for the Inspiring Elephant Community Fund.
This new, £50,000 a year fund provides local groups with grants to support both short-term projects and longer term initiatives in the community.
12 successful applicants have been awarded grants of between £2,500 and £4,950. These include Afro-Brazilian Arts and Cultural Exchange Institute, Superarts Academy, Silverfit and the Latin American Disabled People's Project amongst others.
The money will be spent on projects that address inequality and support people with disabilities, older people and minority communities.
Guided Walk: Under Southwark Today
20 June 2022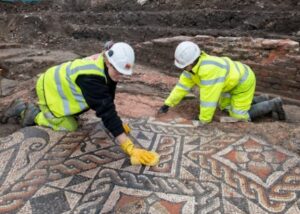 Join Dr Chris Constable from Southwark Council on a walk to explore the archaeology of Roman Southwark.
This free, guided walk complements the Southwark Today exhibition currently running at the Southwark Heritage Centre and Walworth Library in Elephant and Castle.
It will feature some exciting new discoveries, including the secrets of King Alfred's statue and a once-in-a-generation find at Landmark Court.
The walks, which are on several dates through to the end of July, start at the south end of the Roman London Bridge and skirt the edges of Elephant and Castle, before finishing near Borough Tube station.
Visit the Southwark Today exhibition
6 June 2022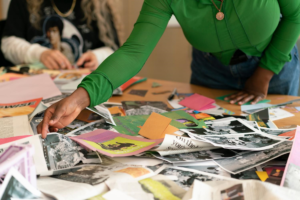 A new exhibition has opened at the Southwark Heritage Centre and Walworth Library.
Southwark Today explores the experiences of the many communities who live in Southwark today and who will form part of the borough's rich heritage in future.
Co-produced with design studio, Syrup, the exhibition was created with community groups from across the borough to help expand our understanding of Southwark's recent history and its potential future. The exhibition includes art, film, photography and oral history – all of which draw upon the borough's many diverse voices.
The exhibition is at Southwark Council's new Southwark Heritage Centre and Walworth Library which opened last year. Delivered in partnership with Lendlease (as part of the Elephant Park development) this incredible, new Elephant and Castle venue combines a heritage centre for the whole borough with a local library for Walworth.
So, if you haven't visited the centre yet, this is the perfect time to do so. The exhibition is free and runs until the end of June.
Celebrate the Jubilee in Elephant and Castle
25 May 2022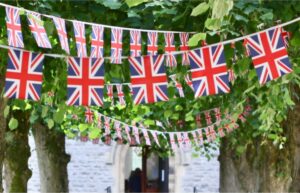 Castle Square and Elephant Park will host free street parties and celebrations throughout the extended bank holiday weekend from 2 to 5 June.
Thursday 2 June
The celebrations get started with Bobo Social's third, annual Welcome to the Gaybourhood party. Expect cocktails, great food and top tunes from the queens of pop, dance and disco.
Friday 3 June
Castle Square will hold a street party in the square. Come along for a day full of music, performance, activities and great food. The Castle Square traders will offer an exclusive Jubilee Menu priced at just £5.50 per dish and there will be a communal al-fresco dining area where everyone can join in the fun.
Sunday 5 June
Elephant Park will hold a party on Sayer Street. Bring your own food and drink or take advantage of the many international flavours on offer from Elephant Park's fantastic, independent restaurants and cafes.
There will be free arts and crafts activities and Blue Elephant Theatre will perform their latest children's play, Ana and Silly, in the park (at Elephant Springs) at 1pm, 2pm and 3pm.
There will be a Jubilee-themed best dressed dog competition (courtesy of Bobo Social) and over at Little Louie there will be a Jubilee Jump Up with DJs Dubplate Pearl and Mr Swing Easy.
£75k available for your community projects
23 May 2022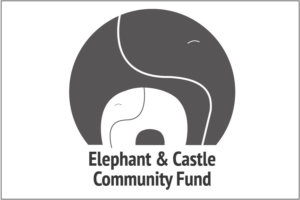 The 2022 Elephant and Castle Community Fund is open for applications.
To date, almost £350k has been awarded to projects, charities and community groups.
Grants ranging from £500 to £10k are available for community projects that benefit people who live, work or study in the Elephant and Castle Opportunity Area.
This is the tenth year of the fund which was originally set up by Lendlease and Southwark Council in 2012 to support the local community. This year, Get Living, the property management group behind the Elephant Central development, has also joined the partnership and the total fund available has increased from £50k to £75k.
The deadline for applications is 5pm Monday 13 June 2022.
Join a free animated walking tour this May
18 May 2022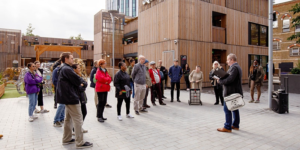 Join the People's Company for a free animated walking tour of Elephant and Castle.
Bringing local history to life, these tours are an opportunity to find out more about our fascinating neighbourhood.
Including music, speeches and performances all along the route, you will hear about famous residents, such as Charlie Chaplin and Charles Babbage, learn about the area's long history and get an insight into the many amazing, diverse communities which have called Elephant and Castle home over the centuries.
There will also be a quiz with prizes and exciting food offers from Castle Square traders.
The next tours are on 28 and 29 May 2022.
Talk to the Town Centre Team
12 May 2022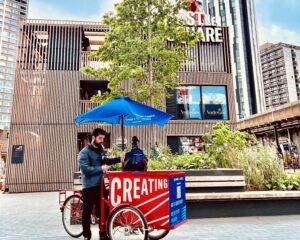 The Town Centre Community Engagement Team has a new information stand in Castle Square.
The stand is somewhere that you can go to find out more about the Elephant and Castle Town Centre development.
The staff on the stand can provide you with updates on construction works, local businesses in Castle Square and Elephant Arcade, events and activities, what's on at the Community Hub and more.
The stand is open on Tuesdays and Thursdays from 8am to 1pm.
The Elephant Magazine: out now
9 May 2022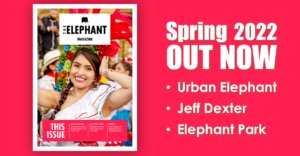 The Elephant Magazine is available throughout Elephant and Castle.
Pick up your copy in Castle Square, Elephant Arcade or at your local pub, cafe or library.
In this issue:
Urban Elephant festival
Summer in Elephant Park
Sunny Hodge on Diogenes the Dog
The Cinema Museum signs new lease
25 April 2022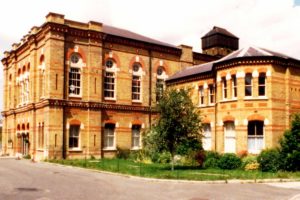 After a 15 year campaign, the future for The Cinema Museum is looking bright.
The museum has just signed a new four-year lease on its historic Elephant and Castle home (the former Lambeth Workhouse) with landlords, Anthology. The Museum has also been given an option to purchase the Master's House buildings at any time over the next four years.
This presents a great opportunity to secure a permanent home for the museum and also save a unique heritage building, the workhouse that was once home to Britain's greatest movie star, Charlie Chaplin.
New Head for London College of Communication
21 April 2022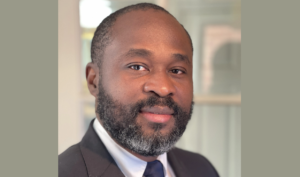 Professor Kene Igweonu has been appointed University of the Arts London Pro Vice-Chancellor & Head of London College of Communication. He will take up post in July.
Kene, who is currently  at Middlesex University, said:
"It is an honour to be appointed to lead the world-class creative institution that is London College of Communication.
I am delighted to be taking on the role at an exciting time for the UAL community, with the launch of its ambitious new Strategy 2022-2032 – 'The World Needs Creativity', and as the College undertakes an unprecedented programme of change that will see it move into a new purpose-built campus in 2026."
Elmer returns to Elephant Park
8 April 2022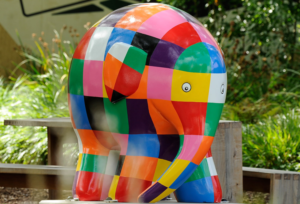 Ten statues, based on the much-loved patchwork elephant created by the late David McKee, have returned to the streets and green spaces of Elephant Park.
The statues originally formed an art trail as part of the Elmer at the Elephant celebrations in 2019. Each elephant has a unique decorative pattern which were designed by artists who worked in collaboration with local community groups three years ago.
Grab yourself a trail map from the new Southwark Heritage Centre and Walworth Library (just around the corner) or download a PDF , try to find all the Elmers and read each plaque to learn more about the unique designs.
Easter in Wonderland at Castle Square
22 March 2022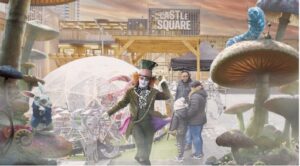 Families are invited to join in with a jam-packed Alice in Wonderland themed event at Castle Square this Easter.
Activities will include face painting, bunting making and biscuit decorating. Visitors can get snap-happy at the totally instagrammable Wonderland dome or join the Mad Hatter and White Rabbit Easter Bunny for a tea party. The two characters will be handing out treats and vouchers as well as posing for pictures.
Entry is free as are all the activities.
Easter in Wonderland takes place on Saturday 16 April from 11am to 5pm at Castle Square.
Blue Elephant Community Street Party
17 March 2020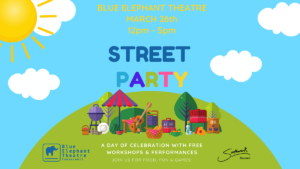 Join Blue Elephant Theatre for a street party on Saturday 26 March between 12 and 5pm.
The party, which takes place on the Wyndham Road side of the Jessie Duffett Hall, will feature free, family-friendly theatre  workshops and performances. It will be a public celebration and a chance to get to know this community arts organisation and everything they do.
The party, which has been funded by the Southwark Council Cultural Celebrations Fund, will include food stalls and the Theatre and its bathrooms will be open just a few minutes walk away.
Work begins on Walworth Town Hall
7 March 2022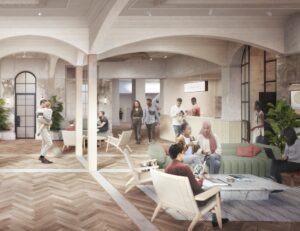 Work has begun on refurbishing Walworth Town Hall.
General Projects is the operator of what will become a new flexible work space and community hub at the town hall. The team has spent the last three years carefully planning the extensive refurbishment of this important part of Elephant and Castle's heritage and an independent management board has been established to help shape and oversee the new community space.
Conamar, a family-owned contractor with substantial experience in heritage projects, is undertaking the refurbishment which is due to complete by the end of 2023. The project will involve some demolition work, façade restoration, roofing and internal fit-out before finishing with landscaping outside.
A decade of delivery at Elephant Park
1 March 2022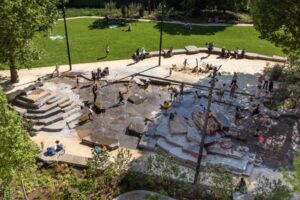 Since 2010, Lendlease and Southwark Council have been working in partnership on the regeneration of Elephant and Castle.
Lendlease's Elephant Park development is now more than halfway through to completion.
Since planning consent was granted in 2013, the scheme has delivered over 2,000 new homes, more than 25 per cent of which are affordable housing.
Over 9,000 people were trained at the Southwark Construction Skills Centre while based at Elephant Park and more than 1,500 Southwark residents have been employed on the development.
The scheme has also created new retail premises for local businesses and more than 1,500 sqm of community space including the Southwark Heritage Centre and Walworth Library which opened last year.
Lendlease has published a full update (PDF) detailing all the key benefits delivered so far and what's still to come.
Time to visit the new Heritage Centre and Library
14 February 2022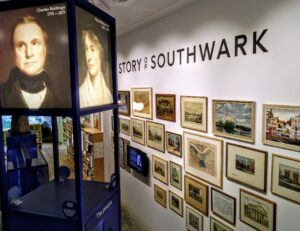 If you haven't had the chance already, now is a great time to visit Elephant and Castle's brand new Southwark Heritage Centre and Walworth Library.
The centre has a permanent Story of Southwark exhibition, which explores the borough's 2,000 year history from Roman times to the present, alongside a rolling programme of temporary displays. It also features a vast array of art, photographs, memorabilia and artefacts from the borough's impressive heritage collection (including items last on show at the Cuming Museum).
It even has a quiet, copper-lined, Faraday Room (which blocks out electro-magnetic signals) dedicated to the legacy of local-boy-done-good, Michael Faraday.
Delivered by Southwark Council in partnership with Lendlease in 2021 (as part of the Elephant Park development) the centre also incorporates a local library for Walworth and there are 20,000 books for you to borrow; plenty of desk spaces at which to study and free wi-fi throughout.
£250k Inspiring Elephant Community Fund
1 February 2022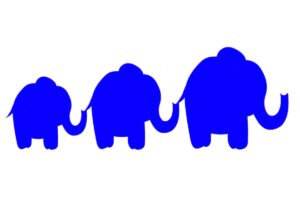 The Elephant and Castle Town Centre team and Get Living have launched the Inspiring Elephant Community Fund.
Over the next five years, the Town Centre team will distribute £50k in grants, each year, to support the local community. Applications are open for projects that work with local residents to increase community connections, improve health and wellbeing and engage young people in training.
Local organisations will be able to apply for multi-year grants of up to £5k each and a panel of local community leaders, including members of the Community Hub and representatives from Get Living and Southwark Council will consider the applications.
Lunar New Year at Elephant Park
28 January 2022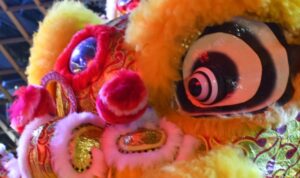 1 February marks the Lunar New Year, celebrated by London's Chinese and Vietnamese communities. amongst others. 2022 is the Year of the Tiger.
You are invited to join in the celebrations at Elephant Park to celebrate the occasion with a traditional Chinese lion dance.
On Tuesday 1 February from 3 to 5pm the lion dance will make its way through Ash Avenue and Sayer Street. It promises to be quite a spectacle and is free to attend. So come along and enjoy the show!
Construction starts on next phase of Town Centre
10 January 2022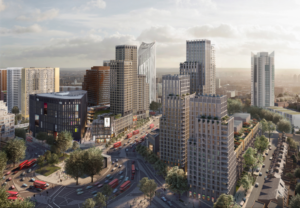 Today marks another milestone for the Elephant and Castle Town Centre as construction partner, Multiplex starts work on the next phase of construction (due to complete in 2026).
This phase (on the site of the former shopping centre) will deliver 485 homes to rent; a new cutting-edge university campus for London College of Communication (LCC) and a new tube station entrance and ticket hall. There will also be shops, restaurants and leisure space.
The third and final phase of development will commence on the current LCC site once the university moves to its new campus. When complete, this will provide a further 498 new homes as well as retail and a 500-person capacity cultural venue.
New Year Honours 2022
4 January 2022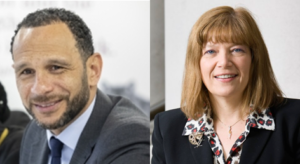 The New Year Honours list just announced for 2022 includes recognition for two pillars of the Elephant and Castle community.
Matt Jones the Principal of Ark Globe Academy school has been honoured alongside Diane Lees, Director-General of the Imperial War Museum.
Matt Jones has been awarded an OBE for services to education. Matt has been Principal of Ark Globe Academy, on Harper Road, since 2012. The academy, established in 2008, is now ranked in the top ten per cent of schools, nationally. 
Diane Lees has been awarded a DBE for services to museums and cultural heritage. Diane is responsible for all the branches of the IWM including its main museum here in Elephant and Castle, which has recently been revamped with new WW2 and Holocaust galleries.
.
Read archived news from last year (2021)