Hidden away in railway arches just off Walworth Road, Orbit Beers combines owner Robert Middleton's passion for craft beer with his lifelong love of indie music. It's even had the thumbs up from cult American band the Pixies.
Robert Middleton, of Orbit Beers, admits that he knew very little about brewing until four years ago when he embarked on a road trip around his native Scotland in his VW camper van after chucking in his job in the city. "I'd worked for 26 years in the pensions industry and I couldn't stand the excitement a minute longer" the 53-year-old says, with his tongue firmly in his cheek.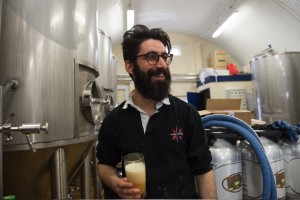 "I had no idea what I wanted to do but I knew I never wanted to see an office again." "I was looking to give the trip a purpose and someone I got chatting to in a bar suggested I tour around all the craft breweries in Scotland, so I did. Until I drank beer in Scotland I wasn't a beer aficionado at all – I used to drink Stella and didn't really think about it – but the independent, craft beers tasted so good. As I learned more about the industry and got to understand more about beer, I realised that this was what I wanted to do."
On his return to London he set about making it happen. "I'd never run a business before and I still didn't know that much about beer, but I put a business plan together and went for it. There were times when I got the jitters but I couldn't think of anything else I'd rather do, so I just kept going" says Robert. When premises became available in a double railway arch on Fielding Street he jumped at the opportunity and spent five months converting the former car mechanic's garage into a small craft brewery.
There were times when I got the jitters but I just kept going
"We put in a new floor and drainage, juiced up the electrics and improved the water flow as we need a lot of water to make beer" Robert explains. In May 2014, Robert hired Mario as head brewer and they made their first beer a few months later. Assistant brewer, Robbie, joined in October that same year. "It's very much a team effort" says Robert, adding "it was scary at first."
"London is a crowded market with more than 75 craft breweries but the European styles of beer we do are a bit different. We have grown slowly but steadily and have had lots of warm and positive feedback from customers."
Orbit's tag line is "Hi-Fidelity Brewing" and Robert's love of music is reflected everywhere. Beers have names such as Nico (after the Velvet Underground singer) and Peel (after DJ John Peel) and their limited edition "White Label" beers are named after the new releases that used to be sent to DJs and radio stations.
The company logo is a spindle adaptor from a vinyl 45. "It's one of my earliest memories" says Robert. "I had older sisters and I was fascinated by their records and record player." "I've always gone to gigs and festivals so I wanted to bring music into the business somehow and people seem to really appreciate it" he adds.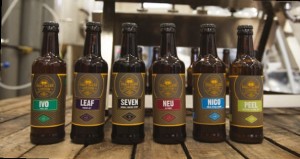 Coming up to Orbit's second anniversary, they now brew 1,600 litres of beer twice a week and supply bars and restaurants and shops and pop-up events across London. Every Saturday during the summer they have 'Tap Room' days so people can see the brewery, meet the team and either drink in or take away. "It makes the brewery a bit of a community hub" says Robert. "Local people really enjoy it."
Once a month, they create a bigger event, playing a selection of vinyl, provided by Rat Records in Camberwell, and have a food van.
"It's a lovely laidback atmosphere and a bit different from just going to a bar" he adds. Perhaps not surprisingly, music is always playing while the trio work, although they all have quite different tastes. "For Robbie it's hip hop, Mario likes left-field jazz and for me it's indie. Whoever gets in first gets to play DJ."
Earlier this year, Orbit was asked to brew a one-off beer for an exhibition in Greenwich by legendary art director Vaughan Oliver, who designed the Pixies' album covers. It was a dream come true for Pixies fan Robert.
"Lead singer, Black Francis, surprised everyone by turning up on the opening night so I have a picture of him and me, and my grown-up son who was down from Edinburgh, all drinking Orbit's special Pixies beer" Robert says with obvious pride. "It doesn't get much better that that!"
Read more about the people who live and work in Elephant and Castle
A version of this article was first published in the Elephant Magazine, Summer 2016