Hidden away off Renfrew Street, The Cinema Museum is a veritable treasure trove of cinema memorabilia, from plush velvet seats, impressive illuminated signs and elegantly tailored usher's uniforms to movie stills, posters and cans of film.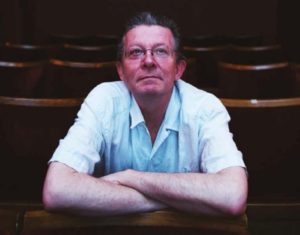 Fittingly, this imposing Victorian Gothic building was once the Lambeth Workhouse which briefly housed the eight-year old Charlie Chaplin when his mother faced destitution. In the vast, high-ceilinged main exhibition hall, a striking prototype sculpture of Chaplin, by artist and museum volunteer, Anna Odrich, takes centre stage. Anna hopes to create a monumental version of 'The Tramp' for a public space in Elephant and Castle in the future.
Perhaps unsurprisingly, Chaplin had bleak memories of his time in the workhouse but one would imagine that he'd be rather pleased that the building, which went on to become Lambeth Hospital (and is still owned by South London and Maudsley NHS Foundation Trust) now houses a remarkable museum that pays homage to the very industry that made him world famous. Founded in 1984, the museum is the result of a life-long fascination with cinema-going by avid collectors Ronald Grant and Martin Humphries.
"In the 70s, lots of high street areas and cinemas were being demolished. We'd give the demolition people some beer money so they'd let us in" reveals Martin, who says they rescued everything they could from "seats to signage". "The collection grew to such proportions that we just had to make it publicly available" he explains.
no other museum in Britain is devoted to the experience of going to the cinema
In 1986, the museum became a charity and, after finding temporary premises in the Old Fire Station in Renfrew Road and then in Raleigh Hall in Brixton, moved into its current home. Initially, the museum was situated in the administration block but a few years ago they were able to expand into the whole of the building and have gradually raised their profile through guided tours and events ever since.
"We're unique" declares Martin "no other museum in Britain is devoted to the experience of going to the cinema. It used to be a very important part of people's social lives and lots of people went once a week, possibly twice."
A steady stream of visitors from all around the globe regularly book the museum's 45 minute guided tours, which are often led by Martin. "We have a real mixture; lots of international visitors from America, Japan and Europe but local people too" he says. "The other day, we had an older couple who said it really stirred up memories of going to the cinema around this area years ago."
Once known as the Piccadilly of the South, for the first half of the 20th century, Elephant and Castle was a Mecca for entertainment. "There used to be seven cinemas including the Trocadero which had 3,000 seats and was one of the biggest in Europe" explains Martin [see the museum's Picture Palace Map].
As well as tours, the museum offers a packed programme of talks, Q&As and film screenings, all held in either the main hall or in the 36 seat screening room. It also hosts numerous film related launches and activities.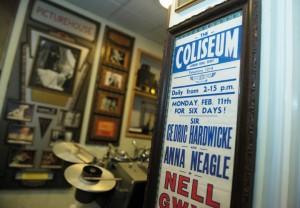 Over the years, an impressive list of industry names have taken part in events and offered their support, ranging from comedian Paul Merton, film critic Mark Kermode and Monty Python's Terry Jones through to actors Rory Kinnear, Simon Callow and movie legend Sylvia Syms.
The museum also undertakes a programme of wellbeing activities, often working with people with Alzheimer's and dementia, as well as embarking on projects with media students at the nearby London College of Communication.
With no public funding, keeping the museum going is a huge challenge. "It's very much a labour of love" says Martin, adding that they are always on the look out for more volunteers.
"We could do with an ex-projectionist, someone who's good at DIY and a gardener. We're also trying to sort out a lot of duplication in the collection, so people with patience who don't mind doing repetitive tasks would also be handy" he smiles.
The Cinema Museum is currently facing closure. You can support the campaign to save the museum here.
A version of this article was first published in the Elephant Magazine, Autumn 2015