More than £3bn is being invested in the regeneration of Elephant and Castle. This investment includes new homes, better transport and public realm, improved shopping and leisure, new schools and community centres, and thousands of new jobs and training opportunities.
Elephant and Castle Partnership was formed to steward this regeneration and help achieve the best for the area and its people.
We want to help shape a district that reflects, respects and builds on all that is good, while enhancing its potential – for the people who live and work here; for its economy; and for the way the area feels to move around and be in.
The Elephant will be home to the largest new park created in central London in generations; a revitalised shopping district, clustered around a new town centre; a better road layout and cycle routes, and a new entrance to the Northern Line station. And by 2025 more than 5,000 new and replacement homes will have been built in the neighbourhood; at least 1,650 will be affordable homes.
Across the entire area, there is a focus on better walking routes, linking new public squares, pocket parks and green spaces – all designed to make it easier and more enjoyable to walk through and around the town centre.
It's an area of diversity – diverse uses, diverse architecture, and diverse cultures. This diversity is something to be sustained and built on; upholding the area's unique personality. We want to support and enhance this distinctiveness.
And, of course, the Elephant is being designed by some of the capital's leading architects; from Borough Triangle to Trafalgar Place, the new developments are leading the way in quality urban living.
Housing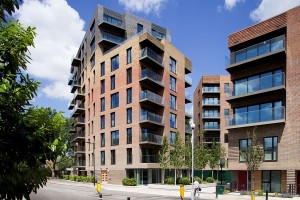 Trafalgar Place
The central driving force behind the regeneration is London's need for new housing, for people of all income groups. Housing is at the heart of almost every development being built in Elephant and Castle.
Thousands of new homes have already been built in the area over the past decade, including more than 1,400 affordable homes either completed or under construction. This number is set to rise dramatically over the next ten years.
In total, by 2025 more than 5,000 new and replacement homes will have been built in the neighbourhood, including at least 1,650 affordable homes. Lendlease's award winning Trafalgar Place has already delivered 235 homes and they are set to deliver some 2,500 more across Elephant Park (of which at least 25% will be affordable). Over 1,000 new homes will also be delivered by Delancey, with the majority available for rent rather than sale.
These new homes are being made available with a range of tenures from private ownership through to social rent, with a commitment from Southwark Council to achieve a minimum of 35% affordable homes across the whole regeneration area. Most of the new developments, including Elephant Park, will have mixed housing, with privately owned and rented apartments alongside homes for social rent or shared ownership. Some schemes, such as Harper Road, are 100% affordable housing, while others, such as One the Elephant, consist entirely of homes for private sale.
Parks and public spaces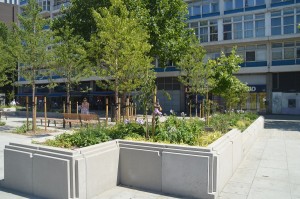 New public realm on Newington Causeway
The regeneration will create a new district centre that redefines the Elephant. The old 1960s urban landscape will be reshaped so that it focuses on the needs of people rather than the needs of the automobile.
The emphasis is on opening up or creating public space, making it easier to get around, particularly on foot and by bike, and providing new parks and public space for everyone to enjoy.
All the developments and planned changes play a part in this, but one of the most significant contributions is a new public park – the centre piece of the Elephant Park development. At 1.5 hectares this is the largest new park in central London for 70 years. The park will have 400 trees, including 122 mature trees retained from the former Heygate Estate.
Elsewhere, three new pocket parks are being created, and £6m is being spent to renovate existing parks, including St Mary's Churchyard, which sits alongside the new leisure centre. New public squares are in the making, including Elephant Square, created from the former traffic roundabout, and at Wansey Street adjacent to Walworth Town Hall.
New routes are being opened up, and developments are being designed to help re-establish former street patterns, and reintroduce the connections to the wider road and pedestrian network.
Jobs, training and education
The regeneration is expected to create over 10,000 new jobs
The regeneration is expected to create over 10,000 new jobs.
By boosting the neighbourhood's infrastructure and the local economy, and creating new places to work, sustainable jobs are being generated throughout Elephant and Castle, in offices, retail and restaurants, as well as cultural venues.
In the short-term, many jobs and training opportunities are being created by the huge amount of construction work that is underway.  Lendlease, one of the biggest developers in the area, expects to create more than 6,000 jobs overall, and has already employed more than 400 local residents. It has also awarded more than £4m in contracts to local businesses.
Over £3m has gone into training and apprenticeships. In addition, local training schemes, such as Lendlease's Be Onsite, are helping long-time unemployed residents gain new skills, work experience and ultimately jobs in the construction industry and associated fields.
In September 2016 a new construction skills centre opened at Elephant Park. It will run for five years, helping hundreds of Southwark residents to learn the skills needed to access jobs across the opportunity area and beyond.
The area has long been a centre for learning, with two universities, London College of Communication and London South Bank University, a fundamental part of the area's past and its future.  New or revitalised campus and academic facilities are intrinsic to the regeneration.
Overall education and culture in the area is being boosted by £240m investment, further raising academic achievement and supporting local people into work.
Culture, creativity and animation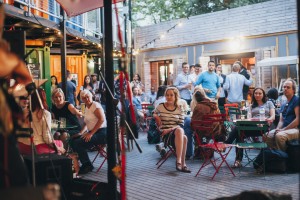 Artworks Elephant
Elephant and Castle is a microcosm of London's diversity, creativity, culture and endless opportunity.
The area is peppered with creative enterprise, from small studios and workspaces, such as Iliffe and Pullens Yard, to the world class tourist attraction that is the Imperial War Museum.
The Siobhan Davies Dance studio is currently celebrating its tenth anniversary and the Southwark Playhouse, based for several years on Newington Causeway, is set to put down permanent roots with a new purpose built theatre in the Realstar Living, Elephant and Castle scheme. Plans are afoot to create a similar culture space at the base of Skipton House which are currently being determined through the planning process. Close by, the Cinema Museum, on Dugard Way, evokes the golden age of the 'picture palaces' for which the Elephant was once famed. Fittingly, it's located in a converted poorhouse, once home to the local boy destined to become the world's greatest film star, Charlie Chaplin.
Continuing the cinematic theme, London College of Communication, UAL, launched a new Screen School in September 2016 and is currently home to the Stanley Kubrick Archive, one of the most unique collections of late 20th Century culture in Britain. The Elephant's other university, London South Bank, is similarly a magnet for creative minds – not least because of The Clarence Centre which houses a thriving community of entrepreneurs, start-ups, innovators and business experts.
Working closely with both universities and their students, local not-for-profit Hotel Elephant was established in 2009 to provide space for arts and culture in Southwark. Their newest venture is a street dedicated to creative enterprise called Spare Street which opened in July 2016 and is named after local artist Austin Osman Spare.
The Elephant is also home to a large Latin American community whose culture infuses the area with a unique dynamism. Carnaval del Pueblo, Europe's largest Latin American event, currently operates from Artworks Elephant and will shortly move to East Street. The Artworks itself is a good example of one of the many 'meanwhile' spaces being used productively throughout the Elephant. A creative work hub with over 30 start-up businesses in repurposed shipping containers, it hosts regular events including a Saturday marketplace, workshops, classes, live DJs and more.
Making use of temporary spaces in this way brings the area to life during the transition period created by the regeneration. Elsewhere, on the Elephant Park site, 'Grow Elephant Community Garden' provides a home to the Mobile Gardeners – a network of community gardeners and community growing spaces.
The Elephant's creative pulse is vital to its future. As a consequence, the partnership is determined to retain and create space for creative communities. Collectively, the partners are devising a cultural plan to ensure that arts and culture are at the heart of as many local developments as possible.
Community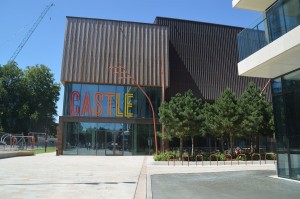 The Castle Leisure Centre
The changes taking place will benefit everyone in Elephant and Castle.
Some of these, such as the improvements to parks and streetscape or the new housing, shopping and job opportunities, are increasing month-by-month, year-by-year. Others, such as the new £20m Castle leisure centre, are making a big difference right now, with state of the art swimming, sports and studio space in the heart of the town centre
Throughout the area, the community is set to benefit from a range of new amenities, whether it's the restored Walworth Town Hall and library or new spaces for arts, culture and leisure, such as Artworks Elephant, or the new cinemas and theatrical spaces proposed for Skipton Street.
In addition, investment is going directly into many local community projects. The Crossway Christian Centre is one such beneficiary and dozens of community groups have been awarded more than £100,000 in grants through the Elephant and Castle Community Fund.
Overall, £1.3m is going in to projects to support public health.
Transport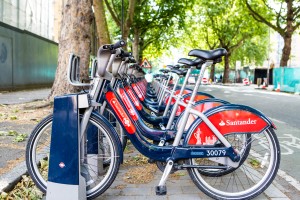 Bike Hire on Borough Road
At least £150m is being invested in improvements to public transport, including roads and public realm.
The road layout has been altered, changing the traffic roundabout to a 'peninsular' to create a new public square.
Transport for London has created better crossings for pedestrians, widened pavements to provide more public realm and created new cycle lanes. A new Cycle Superhighway now links Elephant and Castle directly with King's Cross and a vastly improved ticket hall and entrance is set to make the Northern Line underground station much more accessible for passengers.
With the creation of the new town centre, better walking routes and the reinstatement of streets lost to the developments of the last century, the Elephant is also set to be a much friendlier place for pedestrians and a much easier place in which to find your way around.