The Ukulele Orchestra of Great Britain, which started as "a bit of fun", has given rise to the worldwide phenomenon of "uke groups". Founder member, George Hinchliffe, tells us how it all began in Elephant and Castle.
With the band now performing their unique renditions of popular songs at sell-out shows everywhere from the Royal Albert Hall to Sidney Opera House, George is the first to admit that they didn't have a plan when they first formed back in 1985. George, who grew up in Sheffield, started playing the ukulele as a kid and rediscovered it when he was in his 20s and living in a relative's flat on Trinity Church Square.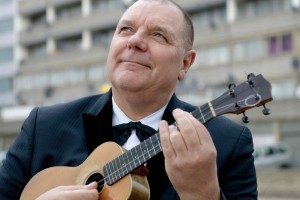 "It was a crazy idea in the pub one night" he recalls when we meet at their offices off the Walworth Road. "What if we did a gig where all the musicians all played the ukulele just for one show? Let's do it in a local pub and play rock tunes. It might be fun. We thought it would be a one-off but everyone loved it, we did another and another and now here we are 28 years later!".
Within three years, the Orchestra had released an LP, appeared on TV, played at WOMAD and recorded a BBC Radio 1 session.
They have gone on to play thousands of concerts across the world including America, Canada, New Zealand and Japan as well as numerous festivals including Glastonbury. They've also performed with everyone from the Kaiser Chiefs to Cat Stevens.
George describes their concerts as "A funny, virtuosic, twanging, awesome, foot-stomping obituary of rock-n-roll and melodious light entertainment". Their sets can feature anything and everything from Tchaikovsky to Nirvana via Otis Redding and spaghetti western soundtracks to Lady Gaga's Born This Way.
There are nine members in the orchestra although they usually "rotate the squad" and take eight on the road. There is also an office staff of three who organise concerts and bookings along with CD sales.
It was a crazy idea in the pub one night
"Most bands sign up with a record company and appoint a touring agency, but we do it all ourselves, right here in the Elephant" George explains. Wherever they go in the world they discover other people who have followed their example and set up their own ukulele orchestras.
"We once played a festival in Svalbard in the arctic circle, where there are more polar bears than people" says George "We thought they would never have seen a uke before, but even in this really remote place they had a ukulele orchestra in the local hospital!".
For George, one of the main attractions of ukuleles is that they're affordable. "When we first started you could go to the bar and have two drinks each or go to the music shop and buy a ukulele" he jokes. "They were cheap and it was pot luck if you got a playable one. Back then, they were more like toys but now every music shop has a good selection and they all sell far more ukes than guitars".
Read more about the people who live and work in Elephant and Castle
A version of this article was first published in the Elephant Magazine, Winter 2014