Look down the cast list of most major West End shows, such as The Lion King, School of Rock or Matilda and chances are you'll find someone who started out at Superarts Academy of Performing Arts – otherwise known locally as Rene's after founder and professional dancer, Irene Hayes, who started the school back in 1962.
"It was, and still is, very much a labour of love for my mum," explains Susan Hayes who took over the day-to-day running of the school from her 85 year old mother, ten years ago, although Rene is still very much involved.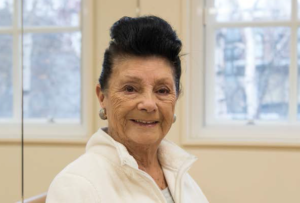 "Mum is a bit of a powerhouse!" says Susan, who trained as a professional dancer before moving into choreography.
"She had her first dance lesson when she was just three years old at the old Manor Place Baths. Chaperoned by my granddad, she entertained the public by dancing in the Tube station shelters during the Second World War and went on to dance with the stars of the day, such as Tommy Trinder and Bud Flanagan. When I was about five, mum decided she wanted to share her love of dance with the children of Southwark by offering classes."
During those early days, Susan says her mother "probably taught in every church hall in the borough. She took her music box from place to place, in a trolley, in all weathers, before she found a permanent home for Superarts in the St John Centre in Larcom Street (more than 45 years ago, now)."
What began as a hobby has turned into a thriving non-profit organisation, with Superarts now offering 23 weekly evening and Saturday classes in everything from street dance and ballet to tap and acrobatics for hundreds of children aged 3-18. And it's become a much-loved part of the Elephant and Castle community.
"It's a bit like a family," says Susan, "we're onto the third generation now; with grandparents who did classes with us when they were little and then brought their own children, now bringing their grandkids."
"Two of our teachers, Karen Willis and James Owen, started as students with us when they were just three or four years old and lots of other past pupils help out too" she adds.
We're onto our third generation now
Superarts students perform regularly at local community events including the Walworth Festival and every two years they put on a production at the Greenwood Theatre at London Bridge. Rene still designs all the costumes, which parents and carers help to make, and assists with choreography. "Her input is invaluable" says Susan.
While some students have gone on to perform in the West End, others have travelled the world.
"We have former students working all over. One is now a choreographer in LA while another runs a chain of dance schools in Australia. She recently came back to see us, which was wonderful."
"The other day, we received a very moving email from a past student who choreographs for TV shows, including X Factor. He wanted to tell us what a huge impact we'd had on his life and how much we'd helped him in his career." Susan, however, is keen to emphasise that Superarts certainly isn't just aimed at those who may want to work in the performing arts.
"We don't audition – Superarts is open to everyone" she explains. "Joining our classes gives children life skills. For example we had a nine year old girl who was really shy. Joining our singing classes has given her such confidence, it's wonderful to watch her. It's almost like she's a different person."
Superarts' home at the St John Centre has recently been refurbished, including the addition of a professional dance studio, with sprung flooring, mirrors and ballet bars. Susan, Rene and their pupils couldn't be more delighted.
"The look on the children's faces when they saw the new facilities was wonderful and, for the first couple of classes, I just couldn't stop smiling either" says Susan.
The improvements, supported by the council's Cleaner, Greener, Safer Fund, also delivered new heating and decoration throughout the building. This includes the ground floor hall which is used for Superarts and the local community, and in a smaller hall, which is used for singing lessons and private tuition.
"Previously, in winter, the children kept their coats on until the very last moment but now they can have their lessons in comfort" says Susan. Now that they have better facilities, Susan hopes they can expand and offer classes for adults too. "Dancing is great for us all, whatever our age," she beams.
Read more about the people who live and work in Elephant and Castle
A version of this article was first published in the Elephant Magazine, winter 2018