Diogenes the Dog has put Elephant and Castle on the map when it comes to wine.
Everyone from Time Out and Stylist to Decanter and Conde Nast Traveller are fans of this wine bar, bottle shop and café.
Sunny Hodge opened his business three years ago in the former Rose and Crown pub on the corner of Wadding Street and Rodney Road. The bar takes its name from the ancient Greek philosopher, Diogenes (nicknamed The Dog) who was known for doing things a little bit differently.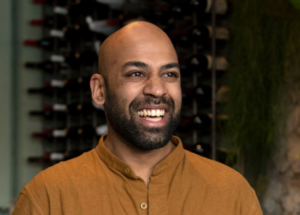 Sunny likes to take an unconventional approach too. Rather than opt for a traditional wine list, his bar focuses on up-and-coming wine regions from around the world. These include places as far afield as Poland, Texas and China, and many of the wines are imported directly from the producers.
Sunny has always wanted his bar to be a go-to place for wine lovers, not just from London but from across the globe too. And it wasn't long after he first opened in 2018 that he knew word had got out.
"I wanted to create a destination spot" says Sunny. "One Saturday night, about six months after we started, somebody entered the bar and told me they'd come straight from the airport – just off a plane from Singapore. It was then that I knew that what we were doing was really working."
Creating the wine bar has been a labour of love for Sunny. He had already worked in hospitality for more than a decade, including stints at Margot in Covent Garden, the Gaucho group and The Fordwich Arms in Kent.
We transformed the place in just 42 days
He spent two years looking for a good site before he came across The Rose and Crown, which had been vacant for a while. In his twenties, Sunny had lived nearby ( just off Walworth Road) and he felt Elephant and Castle was the right place for his new venture. "If we had opened somewhere like Dalston, where people already go out a lot, we would just have been one of many places to drink and dine but I wanted us to be something of a local institution" he says. The old pub needed a lot of work to get it into shape.
"When we took it over it was pretty much an empty shell" Sunny recalls. "There was no running water and only one double socket downstairs." Luckily, he had help. His girlfriend, Paulina, designed the interior and her father, Darek, assisted him with the refurbishment.
"We transformed the place in just 42 days, working around the clock to get it ready" says Sunny, who even created many of the fixtures and fittings himself. "I made the benches and some of the table-tops and I even welded the wine racks. The stools and a few other things came from Gumtree" he adds.
The ground floor is a beautiful open-plan area filled with plants and with bottles lining the walls. Downstairs is a cellar which is open at weekends and can also be booked for private events. During the day, Diogenes operates as a café bar and grocery, where you can have a coffee and a pastry or a glass of wine and a snack. You can also buy a range of locally-sourced breads, cheeses and meats. However, it's in the evening that it really comes into its own.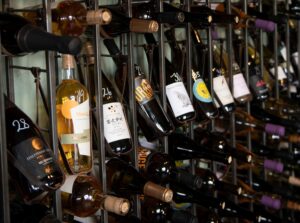 "After 5pm, the whole space transforms" says Sunny. "We move the counter and put wine glasses on the tables and light candles." He adds "We offer a bespoke, tailored service. We've trained our team as sommeliers and we help our guests to understand more about the wines on offer."
Most of the wine is available by the glass. "We want people to try different wines, so we actively discourage guests from buying a bottle" Sunny explains.
The food menu includes plates of charcuterie from Bermondsey's Crown & Queue Meats and "Boozy Cheeseboards" sourced from Drunk Cheese in Borough Market, all served-up with homemade pickles. The bar is incredibly popular with couples on 'date nights' and with friends meeting up for a chat. The formula has worked so well that Sunny opened another venue, Aspen & Meursault, in Battersea, last summer.
However, it hasn't been plain sailing by any means.
"Closing for lockdown, just 15 months after we first opened, was tough" says Sunny. He managed to retain his staff and keep the business going by turning the bar into a shop. He ran a phone sommelier service – providing customers with wine advice – and provided free delivery in the local area.
"There were far fewer visitors from abroad, of-course" says Sunny "but local trade is now making up for that. We were always full of people on a Friday and Saturday night, but no-one was from the area. Now it's the opposite" he beams. "In the last six to nine months, it really feels like local residents are spending more of their weekends going out in Elephant and Castle rather than going to Bermondsey, Borough, Camberwell or elsewhere."
Diogenes the Dog is also signed up to the Elephant Says Hi project which aims to tackle loneliness and social isolation and he's proud to be a part of life in Elephant and Castle.
"Me and all the staff are very much part of the local community" says Sunny. "Sometimes it feels a bit like Cheers in here" he laughs, "where everyone knows your name!"
Read more about the people who live and work in Elephant and Castle
A version of this article was first published in the Elephant Magazine, Spring 2022