"Walking past, you'd never guess what lies behind these doors" says Simon Drake, stood outside his magical home and party venue.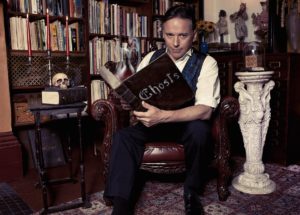 The renowned magician and entertainer has hosted theatrical parties at this secret address, in a quiet Southwark backstreet, for more than 20 years.
"From the outside it looks quite modest, but inside it's massive" says the illusionist who first rose to fame with his cult 90's TV show The Secret Cabaret. Simon bought the building, a 200 year-old former pub, in 1995 and immediately set about restoring the venue to its former glory.
"I originally bought it simply as somewhere to live" he recalls. "It was in quite a state and we had to remove more than 20 skips of rubbish before we could even start on the building work. Then we gradually returned the pub to how it would have looked in more glamorous times."
"After The Secret Cabaret I did an American TV Special called Raising Hell" Simon explains. "Iron Maiden was the house band and this led to a big tour. But after a while I just got fed up with TV. I wanted to do my own thing, instead. So I decided to revive this beautiful building and start hosting my own, unique, magic events."
Simon Drake's fledgling House of Magic soon took flight and, ever since, Simon has held monthly parties for up to 150 people at a time. Some are private events while others are open to the public. Either way, the exact location is only revealed to the participants once they've received their tickets.
Guests have included Lady Gaga and Katy Perry
Guests arrive at the house via an eerily lit Enchanted Garden, where they're greeted by the sound of howling wolves. On entering what appears to be a Gothic mansion they find themselves surrounded by all manner of creepy curios, mystical props and mechanical automata (many of which are built by Simon himself).
Most of the parties are a six-hour experience and they include dinner (with entertainment from roaming magicians) and a musical comedy act followed by Simon's Magical Extravaganza. There are also tours of The Haunted Cellar, created with the help of friends in the movie industry, which Simon describes as a "Mickey-take of things like the London Dungeon."
Simon began performing when he was a small child. "I had hearing problems when I was younger and I was late speaking so I used to express myself visually instead" he reveals. "I liked to clown around, a bit like Buster Keaton or Charlie Chaplin. Today, I end my shows with a dancing cane routine that I actually began when I was eight years old."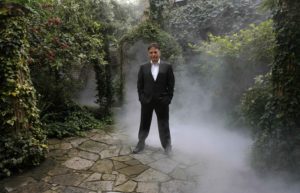 Simon went on to perform at Royal Variety shows at the London Palladium and worked as a magic consultant on music, theatre, TV and film productions.
He co-devised the visuals for Kate Bush's 1979 Tour of Life and even played several of the characters featured in the show. He was magic and effects supervisor for the West End production, The Witches of Eastwick, and he taught Oliver Reed sleight-of-hand for the film Castaway. "Reed had a reputation as something of a hell-raiser, himself, but he was actually a gentleman and a kind, lovely man" says Simon.
The House of Magic attracts visitors from far and wide. "Because my TV show was shown all over the world, people regularly visit from other countries" Simon explains. "We've had guests from Germany, Norway and Holland and we once had an American who brought 40 people with him – all the way from Boston."
With its sumptuous red velvet interiors and cabaret style entertainment, the House of Magic has an air of decadence that's proved popular with the music industry. Past visitors include Kate Bush, Eric Clapton, Annie Lennox, Lady Gaga and Katy Perry.
Friendly fun that doesn't take itself too seriously
"Katy Perry had an X-Factor after-party here and posed for selfies with the staff at the end of the night which was lovely of her" says Simon. "Celebrities seem to like it. It's hidden away and they don't get flash bulbs in their faces all the time."
Despite a sprinkling of stardust, Simon says his House of Magic is actually rooted very much in family and the local community. "We're everything the West End isn't" he says. "It's a bit of escapism and friendly fun that doesn't take itself too seriously. I've got an eight-year-old daughter and an 11-year-old stepson and they love it. They don't stay around for the shows but they're often here at the beginning. We've also got a small magic shop and my daughter loves showing magic tricks to the customers."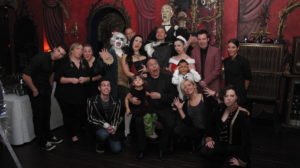 "My wife, Abby, plays a spoof lascivious vampire in The Haunted Cellar and many of the bar and waiting staff are mums from our kids' school" he adds. "We like to employ local people and we do discounts for local businesses that want to book parties at Christmas – although they have to book early as it's our busiest time of the year."
The House of Magic is also becoming popular with couples looking for somewhere a little bit different to get married.
"If you want a posh hotel with seat covers on the chairs, then we're probably not for you" Simon chuckles, "but if you want a venue where you can sit back and watch while your best man has his head chopped off – then get in touch."
Read more about the people who live and work in Elephant and Castle
A version of this article was first published in the Elephant Magazine, Autumn 2019