If it's home-cooked Thai food you're after, there's one place that's on everyone's lips in Elephant and Castle – Mama Thai.
"We offer something that people can't get elsewhere" explains Ameer Khasru, who opened his homely, 35 seat restaurant with Thai chef Chalor Santhaveesuk in 2008.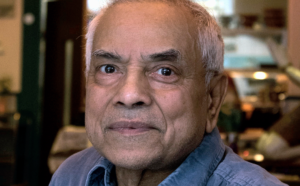 "All of our food is freshly prepared using ingredients that I buy, personally, from London's markets. It's a great collaboration. I source the ingredients and Chalor does the cooking. People seem to appreciate the time and trouble we go to. So many places, today, don't cook their food from fresh, they just heat things up."
Every Thursday, Ameer gets up at 3am to go to Smithfield, Billingsgate and New Covent Garden. He also buys produce locally, from East Street Market and Longdan Vietnamese Supermarket. He says "Not many restaurateurs buy from the markets anymore, but I do and many of the traders have become friends. I like shopping locally. We've even grown our own Thai Sweet Basil at Walworth Garden Farm."
Green Curry and Pud Thai are the most popular dishes on the extensive menu, which includes everything from soups and salads to stir-fries, rice and noodle bowls. The restaurant isn't licensed but customers can bring their own alcohol for a small corkage fee. They also have freshly made fruit juices and non-alcoholic cocktails.
Ameer and Chalor, who've worked together for more than 30 years, have an impressive track record when it comes to serving great Thai food. In the 80s, Ameer opened the Thai Pavilion in Dulwich, having fallen in love with Thai food when working as an accountant in Bangkok. The restaurant proved popular and in 1988 he moved to a 100 seat restaurant next to the Trocadero in Piccadilly with Chalor as head chef and a team of cooks from Thailand.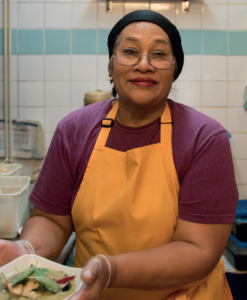 "Thai Pavilion was one of the most successful Thai restaurants in London. We won numerous awards and people came from all over to eat there" recalls Ameer, who went on to add a second branch, Thai Pavilion East, near his home in Kennington.
When he reached his 60s, Ameer sold both businesses so that he could take things a little easier but a chance walk along the Walworth Road one day, changed his plans.
"I noticed that the Wimpy was closing down so I got chatting to the guys in the building and found out that it was for sale. I was planning to retire but Chalor didn't want to. She persuaded me that we should open a small restaurant on the site and call it Mama Thai. Chalor's the Mama!" he explains.
"The building was in really bad shape" he recalls. "The upper floors were unusable so that was quite a challenge." The pair refurbished the place and opted for traditional paintings and furnishings, which they brought from Thailand. "Some people said we should have gone for a more modern style but I'm glad we didn't. Everywhere else looks the same but our restaurant stands out."
Many former customers followed them to the new premises in Walworth but they've also built up a large, local clientele and provide catering for various community events, including Southwark Carers Christmas party and functions at the nearby Walworth Garden Farm.
"We have lots of loyal customers" says Ameer.
"Mama Thai is very popular with the South East Asian students who live nearby and they bring their friends too. We also get quite a few newcomers who've just moved into the neighbourhood, as it's one of the fastest growing areas in London."
Ameer has no intention of slowing down, either. He's looking forward to the tenth birthday celebrations in October, when they'll host a traditional Thai feast and he's also planning some wine pairing events so that people can learn what wines go best with their Thai food.
"I should have retired by now but I think it's good to keep working, both physically and mentally," he smiles.
"After all, as George Bernard Shaw said, 'there is no sincerer love than the love of food'."
Read more about the people who live and work in Elephant and Castle
A version of this article was first published in the Elephant Magazine, Summer 2018