"People come here to feel at home even if they are far away from home" says Diana Sach of La Bodeguita, the lively 150 seat Colombian restaurant and bar which she opened 12 years ago on the edge of the shopping centre.
People come here to feel at home even if they are far from home
Diana originally came to London from Cali in Colombia to study English when she was 18 and then spent 12 years working in an Italian coffee shop in Victoria. It was always her dream to open her own place providing the food she grew up with and in 1998 she took over a kiosk in the Elephant and Castle Shopping Centre, where a Colombian lady had previously sold clothes and perfumes, and started serving traditional dishes cooked in her kitchen at home, alongside selling Latin American produce.
Diana's Colombian food proved very popular with shoppers, local residents and workers and when, in 2001, the owner of the Italian restaurant opposite asked if she wanted to take over their premises too she jumped at the chance.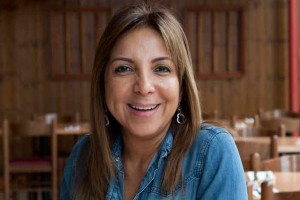 La Bodeguita is very much a family affair. "When I opened the restaurant I asked my brothers, Eduardo and Joseph to join me and I'm very glad I did. I couldn't have done it without them", explains Diana "We were here 24 hours a day at the beginning and it was very hard work but it was great as we saw it gaining popularity." Customers come from across London, but also as far afield as Manchester, for everything from birthdays to baptisms. "If they have anything to celebrate they come to us", says Diana although their clientele is not only Latin American. "People come from all over. We get a lot of students who come here to study English and it's nice that they like to bring their non-Latin American friends. Many Japanese people particularly seem to like our food."
All the dishes, such as Cazuela De Mariscos, a seafood stew served with rice and green fried plantain and Medallones Bodeguita, Argentinian beef in mushroom sauce, are freshly prepared and Diana says everything is "nicely seasoned but not too spicy".
She has witnessed a growing interest in Latin American cuisine over the years and says it is now much easier to source ingredients.
"When I first started, getting hold of plantain was difficult but now everywhere has it", she says.
But La Bodeguita isn't just about food, it's about dancing too, and at 11pm on Friday and Saturday night the central tables are cleared away and the balcony sound system kicks in.
Parties are a regular feature and they recently celebrated their 12th birthday in true La Bodeguita style with a special night of food and drink, live bands, DJs and salsa, merengue and bachata dancing.
With council plans for the demolition of the Elephant and Castle shopping centre, the long-term future of the restaurant is up in the air but Diana is determined that it won't be the end of La Bodeguita.
"We don't know what is going to happen yet but we do know we want to carry on running a restaurant in Elephant and Castle. La Bodeguita is my life but it is also a big part of so many other people's lives here too."
Read more about the people who live and work in Elephant and Castle
A version of this article was first published in the Elephant Magazine, Autumn 2013