Kayode Ewumi grew up in Wolverton House on the Aylesbury estate and describes his TV comedy-drama series, Enterprice, as "a love letter to Elephant and Castle."
"You don't see stuff on TV about this area that's nice and positive, so I wanted to show people what I knew and saw" says the 26-year-old writer and actor. "It was tough at times but growing up here I had a lot of fun too and I wanted to highlight that."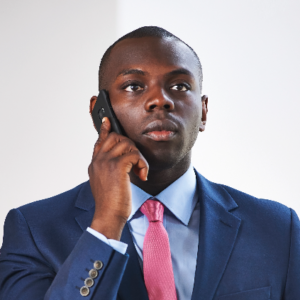 "I also wanted to show how people of different races and cultures can all live together" he adds.
The TV series follows two friends Kazim (Kayode) and Jeremiah (Trieve Blackwood-Cambridge) as they attempt to get their small business – a delivery service named Speedi-Kazz – off the ground.
"It's about two black boys trying to make it and the funny things that happen along the way. It's something I think everyone can relate to" says Kayode.
Four 30-minute episodes aired in 2018 and it was so popular that the BBC commissioned a second series which was filmed last summer. From an early age Kayode says he was always "cracking jokes and making people laugh." He cites his mum, Oluyemisi as a big inspiration. "Mum's always telling stories and has such a great laugh" he says.
Kayode went to English Martyrs RC Primary School on Flint Street and then to Thomas the Apostle secondary school in Peckham. "School was cool. I enjoyed it" he recalls. "I liked it because there were always funny things happening. I got into trouble sometimes and maybe I wasn't the smartest – but I did OK."
He also spent a lot of time at Inspire youth club which is run from St Peter's in Liverpool Grove.
"I probably went there once or twice a week from age 11 until 17" he says. Damien Brown, who was a youth worker there, did all sorts of great stuff for kids on the estate. It was a safe haven for us where we did everything from cooking classes to drumming and playing video games."
At home, Kayode loved watching videos.
"We didn't have that many so we watched the same ones over and over again. I remember seeing Jim Carey in The Mask where he plays a bank clerk and gangster and being fascinated that he could be both characters. That introduced me to the idea that you could act."
After leaving school, Kayode studied theatre and drama at City and Islington College and then went to Coventry University where he did a degree in theatre.
After graduating, he caught the attention of TV producers when he created a mockumentary, called #HoodDocumentary, with his old school friend, Tyrell Williams.
A love letter to Elephant and Castle
"Tyrell and I bought a video camera, from Curry's or somewhere, and we paid half each" he recalls. "Then we started shooting stuff around the area."
#HoodDocumentary followed aspiring MC, Roll Safe (Kayode) as he attempted to convince people that he might be the next big grime act. Or maybe even the next James Bond.
They released two episodes on YouTube and the reaction was huge. Within weeks it had been viewed more than two million times.
"At the time, it felt crazy. It took off so quickly but it really opened doors for me" says Kayode who was named a BAFTA Breakthrough Brit in 2016.
He then started writing Enterprice. The BBC commissioned a pilot which led to the first series.
"Originally, we looked at filming it in Tottenham but my producer, Phil Gilbert, said 'why don't you film it where you're from?' It made so much sense" says Kayode.
"It was lovely to film where I grew up. Knowing people locally made it so much easier and it meant all my family could come and watch."
In the opening scene of the first episode, Kayode is seen walking through East Street Market, eating a pattie, and East Street is still very much a part of his life.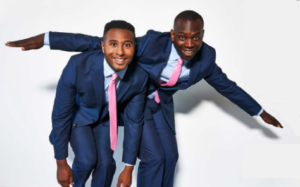 The Aylesbury estate is being regenerated, block by block, and all the council tenants have been given the option to be rehoused nearby. Kayode's family moved near to East Street and he still lives here with his mum, dad, two sisters, Mary and Lola, and his cousin, Kamil.
"I feel that with gentrification there are positives and negatives" says Kayode. "Some of the flats were not in great condition and the heating was old" he remembers. "If it means that people can move to somewhere else in the area then that's good, but it's not good if you move people out of places and they can't afford anything else around here."
"When I was a teenager my mum often sent me to East Street to get chicken and plantain. If I'm at home, that still happens. Even now!" he smiles.
Kayode says his family has been a huge support to him.
"They were understandably cautious at first but then I proved that this is what I wanted to do. Since then, they've pushed me and encouraged me" he says.
"My faith also plays a big part in what I do" he adds. "I'm not a big one for going out. Most of the time I'm either working, at church or tucked up in bed." Although keen-eyed locals may occasionally spot him getting something to eat at Bagel King, Morley's or Ossie's Jerk Chicken on Walworth Road.
And, although he's clearly going places, you might still bump into him in the market on an errand for his mum.
The first series of Enterprice is still available to watch on the BBC iPlayer and the new series starts on Sunday 8 March 2020.
Read more about the people who live and work in Elephant and Castle
A version of this article was first published in the Elephant Magazine, Winter 2020