"Until March 2020, this building was the epicentre of everything we do" says CEO, Nigel Scott-Dickeson, providing a tour of his beautiful, brickvaulted community centre, tucked away in the crypt beneath St Peter's church in Walworth.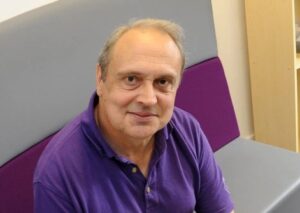 "We have wonderful facilities here and, in the past, we'd often have three or four events going on at once in the different spaces. Of course, since COVID, all that has changed."
Along with many public spaces, InSpire had to close its doors during lockdown and it only partially reopened last September (2020). Nonetheless, the charity has continued to offer essential services both online and over the phone.
"Fortunately, we had all our IT updated at the end of 2019. This meant we had all the software in place to run our main services off-site. So that was definitely money well spent" says Nigel.
InSpire first opened in 2003. It was the brainchild of St Peter's then Rector, Giles Goddard. He came up with the idea of turning the crypt of this huge, Grade 1 listed, early 19th century church (once used as a WWII bomb shelter) into a non-religious, community facility for local residents.
The space now houses a whole range of modern facilities, including an IT suite where people can learn computer skills; meeting rooms that are used for a wide variety of activities and services (such as Art in the Community sessions for older people) and a main hall that can accommodate up to 100 people for conferences, training days and family celebrations.
There used to be a cafe, too. It closed in June 2019 but there are plans to reopen it as a community enterprise facility.
InSpire received £10k from the Elephant and Castle Community Fund
"Making ends meet, without any income from room hire, has been a major challenge" says Nigel. "20 per cent of InSpire's income comes from renting rooms and that subsidises all of our operational costs."
Nigel says that they received a major boost in the summer, when news came through that InSpire was one of five local community organisations whose application for funding from the Elephant and Castle Community Fund had been successful.
Each of the five organisations, including InSpire, received £10k from the annual £50k fund for neighbourhood projects, which was first established by Lendlease and Southwark Council in 2012.
The charity also received a further £10k grant from the council's COVID fund for businesses, as well as an £11k emergency grant from the London Community Response Fund; both of which were designed to help cover loss of income.
"This funding will allow us to keep doing what we do and it will really make a difference to the communities we support" says Nigel.
A lot of InSpire's work is with young people.
Nigel estimates that they help more than a hundred every year. This includes a youth employment programme, which helps 16-25 year olds to access jobs and training, as well as parenting support aimed at the under-21s.
Fifteen years ago, the charity launched the 2InSpire Youth Centre, which provides activities and support sessions for 11-18 year olds. It covers everything from arts and media workshops through to football, dance and cookery sessions. They also host regular youth club nights with pool, table tennis and computer access.
For many years, 2InSpire was based nearby on the Aylesbury estate but their activities moved back to the crypt, last year.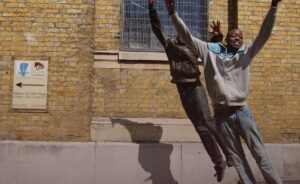 Nigel says it's been very hard being unable to work with young people, face-to-face, lately, although they did manage to adapt their services quickly.
"Within days, Zara Lloyd, our Young People's Programme Manager, was offering online activities and competitions alongside projects that could be done during isolation" says Nigel.
"Steven Davis, our Into Work Programme Coordinator and Sarah Parry, who runs our parenting project, were also able to continue to provide help and support to those who needed it, over the phone and via WhatsApp" he adds.
"It's not ideal. When you see young people in person, you can get a much better idea of what help they need. But we're doing the best we can to be there for them in challenging circumstances."
As lockdown eased over the summer, Zara arranged some outdoor sports activities for small groups as well as a photography competition on the Aylesbury estate, which was sponsored by Creation Trust.
Many of InSpire's activities for older people, including their IT sessions and art activities, are still on hold but Nigel is pleased that the InSpire to Grow gardening project, which takes place on the allotments at Burgess Park, was able to restart with limited numbers over the summer.
"It's a challenging time but we're always here to help" says Nigel. "For 17 years, InSpire has been at the heart of the community and our aim is to ensure that continues."
Read more about the people who live and work in Elephant and Castle
A version of this article was first published in the Elephant Magazine, Autumn 2020