There aren't many restaurants where they encourage you to write on the walls but the moment you walk into El Vergel, with its large wooden tables and benches, pendant lights and brightly patterned cushions, you can tell that it's an easy-going kind of place.
"It's very much a family business and our regular customers are like family now too. Some of them have been coming nearly every day since we opened" says Stella De Garcia, who started El Vergel as a catering company with her Chilean husband 28 years ago. "All our children have worked with us and our chef has been with us for years" she adds.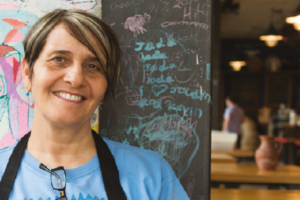 "The graffiti dates back to when we had a kitchen and takeaway around the corner on Lant Street. People started writing messages on the wall and it grew from that. It's usually prohibited so it liberates people when they're given permission."
Pens are provided for customers and Stella points out that some have even gone further and donated their own artworks and decorations. There's a mural created by a Chilean artist whose cousin got married at El Vergel, and the huge colourful pompoms that hang from the ceiling were left after another wedding.
They opened their Webber Street restaurant seven years ago. "Our takeaway got really busy with queues all the time, so we wanted a bigger place where people could sit down" explains Stella.
Local designer, Tim Sherwood, project managed the building's conversion and created the industrial chic feel. And it's proved hugely popular, with El Vergel's reputation for good value Latin American food, in a stylish setting, catching the attention of everyone from Time Out to The Observer and The Sunday Times.
Everything at El Vergel is freshly made, from the churrasco queso traditional Chilean steak sandwiches with melted cheese, to the towering plates of colourful salads, Mexican tacos, empanadas and Spanish omelettes.
"The name El Vergel means an oasis where everything grows fresh" explains Stella. "We make all our dishes from scratch using the freshest ingredients from nearby Druid Street Market and we bake our own traditional Chilean bread every morning at 7am."
Customers range from students and tourists to local residents and workers.
There aren't many restaurants where they encourage you to write on the walls
"We get a lot of barristers, as we're near the law courts, and lots of designers and professionals too" says Stella. "There are sometimes so many business meetings that it can look like an office until mid-morning."
They close at three in the afternoon. "People would like us to stay open later but that would mean bringing in a manager and I don't want to lose that family touch" Stella explains.
As well as catering for clients ranging from the Design Museum to Channel 4, they also hire out El Vergel in the evenings for private parties. "We recently had a 40th birthday party for a local family and we often do weddings – moving back the tables so people can dance" says Stella.
On Saturdays they offer an all-day Latin breakfast menu. We get more families and couples at the weekend and we're busy from the moment we open until we close. It's hard work co-ordinating everything but, even after 28 years, I still enjoy it most when it's really busy" says Stella.
Read more about the people who live and work in Elephant and Castle
A version of this article was first published in the Elephant Magazine, Summer 2016 (NB: El Vergel is now solely a catering business rather than a restaurant).