Draper Hall was built for the local community in the mid 70s but lots of people don't realise it's here as we're a bit hidden away" says Luisa Pretolani, Director of Draper Together.
"Although – once they find us – they come back again and again."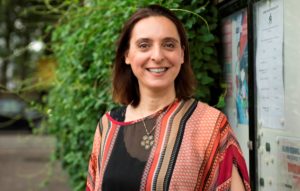 The 80 seat hall (accessed via a gate near the junction of Hampton Street and Newington Butts) was fully refurbished in 2015.
It hosts everything from film screenings, theatre shows and history talks to weekly children's activities and monthly Sunday family shows with a meal included.
"I'm Italian – we like to feed people's stomachs as well as their minds" smiles Luisa, who has lived on the Draper estate for a decade and is passionate about fostering a sense of community.
The estate has always had a tenants and residents association but in 2016 they decided to do more to bring neighbours together, from the estate and beyond, by setting up a charity too. "There's only so much you can do as a TRA" explains Luisa, "creating the Draper Together charity has enabled us to do lots more. Some of our activities are just for residents but most (90 per cent) are open to the general public."
"Our theatre director, Stefania Bochicchio is a strong believer in the power of the arts to bring people together. Every year she goes to Edinburgh and finds amazing five star shows to bring to the estate."
Once they find us – they come back again and again.
Previous shows have included an immersive version of Hamlet by Brite Theater, where members of the audience were involved as players, and the London premiere of Maupin, a new play about a 12th century opera singer by Margo MacDonald. Keep an eye on their website for news of upcoming shows.
Draper Together's events programme also includes screenings by North African film club, Maghreb Ciné, and recent talks have included such topics as gentrification and ancient African history by the collective Black History Walks.
Five years ago, Luisa helped set up the Draper Film and Music Academy for local children aged 7 to 12. "We wanted to involve children in what we do. As I'm a filmmaker, it seemed like a good way to go about it. We write songs and develop choreography and animation and are currently working on a short musical for Black History Month in October."
The children also have an ongoing documentary series in which they interview residents with help from professional filmmakers and photographers. "It's a great way for everyone to learn about each other" says Luisa.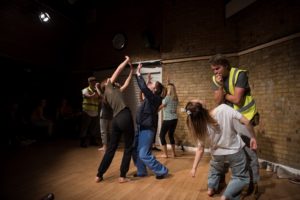 Sporting Draper sessions take place on Thursday afternoons which gives children (under 10) the chance to have a go at different sports and activities in the sports ground next to Draper House. The sessions are free for residents, £4 for non-residents.
Due to restart soon on Saturday mornings, is the Digital Draper programme which provides adults with computer lessons and has a crèche so parents can study while their children are looked after.
The hall is also available to hire for birthdays, weddings auditions, rehearsals and company workshops etc. "I had my wedding reception here five years ago. It's a great space and very welcoming" says Luisa. "There's an outdoor area too and Hugh our volunteer gardener always makes sure it looks lovely" she adds. Since Draper Together was set up,
Luisa says she can see a marked difference in how people feel about where they live. "Things have definitely changed for the better. There's a real buzz about what we're doing and everyone is getting more involved."
Read more about the people who live and work in Elephant and Castle
A version of this article was first published in the Elephant Magazine, Autumn 2019