As the doors open, you're immediately struck by the fresh smell of fields. And as your eyes adjust, 2,800 heads of lettuce come into view, all growing in neat rows under artificial light.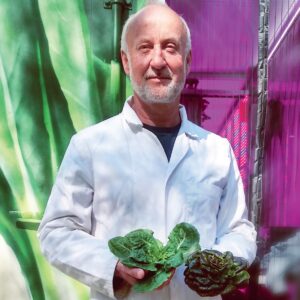 This is the world of hydroponics – a method of growing plants using mineral nutrient solutions instead of soil. The plants in this container take up just 320 sq ft – yet, on a traditional farm, a crop this size would occupy up to an acre of land.
Some people believe hydroponics represents the future of farming and a solution to feeding an ever growing global population.  
This particular Elephant and Castle "farm" belongs to Crate to Plate. It's the brainchild of Sebastien Sainsbury, who thinks people living in cities should be able to eat high quality, pesticide-free food, just days after harvest.  
Part of the famous supermarket family, Sebastien not only wants to sell good quality food but also wants to educate people and spread the word about hydroponics. Sebastien says "Shipping containers are ideal for locations like Elephant Park. We can just drop them in and they're good for two or three years. It's the perfect way of getting fresh produce to people, grown within 15 minutes of their own homes."  
As well as serving local residents, Crate to Plate also sells to local restaurants. And with a strict no wastage policy, any leftovers are broken down into mixed leaf packages and sold online, sold to shops or donated to the charities, Peckham Pantry and City Harvest.
fresh produce grown within 15 minutes of their homes
A former banker in the City, Sebastien's passion for sustainable farming began over a decade ago.
"In 2007, I was doing research on food security and where our food comes from. I read that the World Health Organisation estimated we need to increase our food production by 80 per cent if we are to meet the needs of our growing population by 2050." Sebastien was toying with a business idea around the same time. He says "I pitched my idea to various people but they all told me 'the public will never buy fresh food online'."  
Years later, he took a trip to the Milan World Fair: Expo 2015. It was here that he saw a vertical farm exhibited in the US pavilion and made up his mind to give it a go.  
"Hydroponics have been around for a Millennium. If you think about it, the ancient Hanging Gardens of Babylon were grown in water, so it's nothing new" says Sebastien. "You can grow anything in nutrient-rich water and new technology enables us have a controlled environment where every aspect of the plants' growth is monitored from start to finish, including the temperature."  
Sebastien admits he couldn't have done any of this 12 years ago. "Technology has changed everything" he says, adding "to produce a batch of 600 lettuces only needs one dishwasher's worth of water a day."  
He says that working with Lendlease, the Elephant Park developer, was the perfect fit. "Lendlease are committed to helping the community and committed to sustainability. They have the same fundamental values and ethos as our company."  Sebastien now has grand plans to expand Crate to Plate.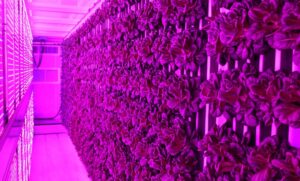 He's building a home delivery and click & collect service from his Elephant Park base. It's aimed at the 50-odd retail and leisure businesses located here, as well as up to 3,000 residents who will be able to order through the residents' app. He says "we want to build a subscription-based service, which we hope to launch this summer."  
His ambition is to provide produce for the wider Southwark area too. And, from September, he wants to teach the borough's schoolchildren about sustainability from a classroom in Elephant Park.  
"My commitment to the community is to open a classroom and bring in kids, from both primary and secondary schools. We'll give them talks about sustainability, food wastage and where our food comes from. It would be great if, one day, our containers become training grounds for kids, so we can give them the chance to come in, grow their own produce and take it home to eat."  
He plans to add a site in Stratford, shortly, to the hydroponic farms he runs already (in Kentish Town and the Isle of Dogs as well as Elephant and Castle).  
"The long-term goal is to feed people at mass market prices" says Sainsbury. And, within five years, he hopes to get Crate to Plate produce stocked in supermarkets. Asked which chain he would like to be the first, he smiles and replies "Sainsbury's, naturally!" 
Read more about the people who live and work in Elephant and Castle
A version of this article was first published in the Elephant Magazine, Spring 2022