There aren't many theatres where the Co-Artistic Director answers calls to the box office but then, as Niamh de Valera explains, Blue Elephant tends to do things differently.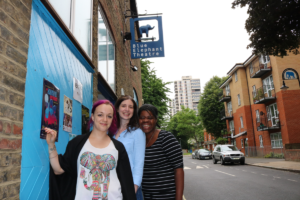 "We're a very small team. You're quite likely to find me helping the duty manager behind the bar before a performance and we'll all be mucking in, painting a wall next week. That's how it's always been. Our chair of trustees, Chris Lawrence, still remembers painting the toilets as they raced to get the theatre ready to open nearly 20 years ago! There's no time for airs or graces and there are certainly no egos here."
Blue Elephant Theatre was established in 1999 by writer and director Antonio Ribeiro.
It was set up as a place where emerging artists could put on new work; a tradition it continues to this day. Each season, Niamh and her co-director, Jo Sadler-Lovett, programme an eclectic programme that includes dance shows, new writing and reworked classics.
"We don't charge hire fees. We simply split the box office takings with the companies that perform here and support them as much as we can by providing rehearsal space, technical support and help with press and PR" explains Niamh.
The theatre company received a welcome boost last year, when it was one of only five theatre organisations in London to be added to the Arts Council's portfolio of regularly funded organisations.
"It still feels like a bit of a dream" recalls Niamh.
It's a great training ground for life
"I was actually on my way back from Glastonbury and I started getting these texts on my phone. I hadn't thought we stood any chance of getting it so I hadn't checked for the official notification.
It came into effect in April this year and it's going to make a huge difference. We get some core funding from Southwark Council but this Arts Council money (which lasts for four years) has given us more stability. It will enable us to put on some of our own shows and we're already planning a Christmas show for children."
Plays at Blue Elephant this summer include Boxman, by Flugelman Productions (4 – 6 July) about a child soldier who lives in a cardboard box in an inner city park; The Dame (12 July) a one-man show about a pantomime dame with actor and former Blue Peter presenter Peter Duncan and An Evening, A Beginning (19 – 21 July), two new works by contemporary dance company Kamienski.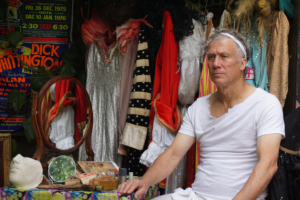 It's wise to book early to ensure your place at this compact 50-seat theatre. Southwark residents get a discount and there are a limited number of free tickets for people who live in SE5 and SE17.
The theatre also runs a monthly writers group where people can bring along new work to share and, on 1 August, they're putting on free interactive storytelling sessions for pre-school children and their families in Elephant Park.
For the last ten years, Blue Elephant has run free Young People's Theatre workshops every Saturday for local 7 – 18 year olds, funded by Children in Need. In 2014, eleven children from the classes joined celebrities at Abbey Road studios to record a single for the charity.
As well as taking part in workshops and a show each term, the young people get the opportunity to perform at other venues and see West End performances. The theatre also runs two hugely popular free summer schools over the holidays (one for primary aged children and one for secondary).
Past Young People's Theatre students include Daniella Connor, who now assists on the project and Amari Harris, who's now an actor, storyteller, prolific drama facilitator and Blue Elephant's young person's mentor.
"It's a great training ground for all areas of life" explains Niamh, who volunteered at the workshops, herself, for many years. "You can see how it helps young people gain confidence and learn to work as part of a team."
Blue Elephant also offer Free to Act dance and drama classes for children aged six and over, at the nearby Bethwin Road Adventure Playground and run a Creative Minds project working with pupils at local primary schools.
"We're very much part of the local community. Jo's been delivering Creative Minds workshops for so long that she can't step out of Blue Elephant without meeting young people she's taught. That's always her excuse if she's running late, anyway" laughs Niamh.
The theatre clearly holds a very special place in people's hearts. Shelves in the upstairs café bar are decorated with blue elephants of every shape and size, from soft toys to ornaments, which have been given as gifts.
"It's become a bit of a thing. People bring us all sorts of blue elephant stuff and you'd be surprised at what they find" says Niamh. "I even saw a dress decorated with blue elephants a while ago. I just had to buy it!"
Next year is the theatre's 20th anniversary and they're very much looking forward to the future.
"We're already planning a special programme of events so watch this space" says Niamh.
Read more about the people who live and work in Elephant and Castle
A version of this article was first published in the Elephant Magazine, Summer 2018