When John started his coffee business, back in 2015, there was only one name he had in mind.
"The Black Cowboy is who I am" he smiles.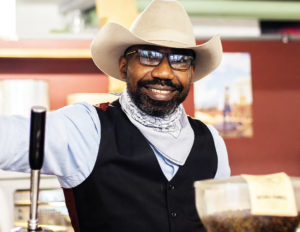 "I've always loved cowboy films since I was a kid and, growing up in Nigeria, I loved helping my grandfather herd and feed the cattle on his land."
John loves the cowboy look and likes to dress up and strike a pose (check out his Instagram). He's been wearing cowboy boots ever since the 80s, when he first came to live in Elephant and Castle, having left Nigeria to study in the UK. Later, when he moved to America, spending nine years as a truck driver in Texas, one of the first things he did was to buy himself a Stetson hat. "I've got through about 50 cowboy hats since then!" he says.
It was while living in Texas that John learnt about the important role African Americans had played in the cattle industry.
"Black cowboys were pivotal in the creation of the iconic image of the cowboy that we all know. They worked as trail leaders, drivers, outriders and cooks and what kept them going was good, strong black coffee" he explains.
In John's new coffee shop, in Elephant Arcade, there are old photos of black cowboys from the late 1800s, along with some of his old cowboy boots. There are even saddles and riding equipment donated by the Ebony Horse Club in Brixton.
Things didn't work out in the US and John returned to south London in 2013 where he struggled to find work.
"I was pretty destitute and living in a hostel" he recalls.
It was his local job centre that told him about the Community Enterprise Programme and start-up loans for small businesses. With support from a business mentor, he came up with the idea for Black Cowboy Coffee and Waffles.
Black cowboys were pivotal in the creation of the iconic image
"Before I went to America, I'd worked at various restaurants in the West End and I've always loved good coffee. So I decided to put all my life experience into my business, and really make a go of it. All guns blazing!"
The idea of serving Liège waffles came from a road trip he made around Europe with friends in his 20s.
"You will always remember your first Liège waffle" he says. "They're denser and richer and sweeter and chewier than other Belgian waffles. I fell in love with them, instantly."
He later shortened the business name to make it snappier, but he still sells a range of waffles. They come with strawberries, peanut butter and other fillings and he even does a spicy chicken waffle with maple syrup (an authentic American recipe).
"You might think that chicken and maple syrup wouldn't work but it does. Trust me!"
John started by selling coffee, in the market outside the Elephant and Castle shopping centre, back in 2015. He traded from a wooden cart that he'd built for himself.
"I've always known how to build stuff. I've made all sorts of things over the years, including bunk beds for my kids" he explains. "With a £2,500 loan I couldn't open a coffee shop but I could afford to rent a coffee machine and sell from the pushcart."
His organic, fairtrade coffee and snacks proved popular with local residents, students and office workers. Trade was good and after a while he replaced the cart with a horse box which he bought on eBay for £600.
"I went to Tilbury with my daughters to pick it up. Then I spent six weeks working around the clock to convert it into a mobile café."
John knew his days at the shopping centre were numbered as the site was due to be redeveloped as Elephant and Castle's new town centre. But when the pandemic hit and lockdown began, the market closed earlier than expected. John couldn't trade at all for a while but he says it gave him time to pause and think about his business.
"For five years I'd been working non-stop so it gave me time to focus."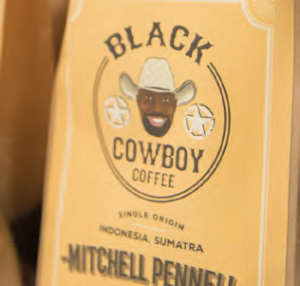 Using some financial support from the Government and a grant from the coffee industry, he used the time to create his own range of Black Cowboy Coffee beans and ground coffee. He now sells the range online as well as in the new shop.
Before the shopping centre closed, John, along with other traders, received help to relocate from the Elephant and Castle Town Centre team and Southwark Council. He secured premises in the new Elephant Arcade, which had been built by the council, for the former shopping centre traders, at the foot of Perronet House.
His shop opened in October, and John says he's delighted to finally have a permanent base in Elephant and Castle. He's started delivering coffee, milkshakes and snacks (via delivery apps) and has even taken on five staff to help with the orders.
"Elephant Arcade is an exciting place to be. It's got such a good atmosphere and a wonderful ambience" he enthuses.
"When I lived on the Aylesbury estate, all those years ago, a trip to the cinema in Elephant and Castle was a big thing. Now, having my own business, right here in the centre of town, feels like a great achievement."
And while his love for his local neighbourhood is as strong as ever, the old cowboy in John can't help but look towards America.
"Elephant and Castle will always be the home of Black Cowboy Coffee" he says "but I'd love to open a couple of branches elsewhere and my ultimate dream is to open a shop in New York City."
Black Cowboy Coffee
Elephant Arcade
50 London Rd SE1 6FY
Read more about the people who live and work in Elephant and Castle
A version of this article was first published in the Elephant Magazine, Spring 2021