G. Baldwin & Co, with its traditional wooden floors, high wooden counters and shelves stocked with herbs, oils and ointments, is London's oldest herbalist and they still serve sarsaparilla by the glass.
There's not much you can buy for 20p nowadays but visit Baldwins on the Walworth Road and it'll get you half a pint of authentic sarsaparilla.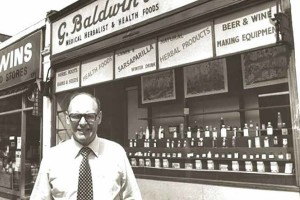 The foamy dark red cordial made from the root of the sarsaparilla plant is still popular locally, especially with families. "Drinking sarsaparilla at Baldwins is something that many people around here remember from their childhoods so they love bringing their children and grandchildren to sample it too". "It's one of many unique things about us" explains Steve Dagnell, the third generation of Dagnell's to run the shop. Steve started at Baldwins in the early 80s and eventually took over the business in 1992 when his father retired.
The company was originally started by George Baldwin, who opened his first apothecary at 77 Walworth Road in 1844. At the company's peak there were 12 shops across London. But when George died, in the early 1900s, his son wasn't interested in taking on the business, so Steve Dagnell's grandfather bought the original shop and kept the Baldwins name. Back then the sarsaparilla was made on the premises. "I remember my dad and I carrying in eight tons of sugar a week and in the summer there were queues around the block" says Steve. Baldwins relocated to 173 Walworth Road in 1969 and today their sarsaparilla business is bigger than ever. To cope with the growing demand, they started licensed production around ten years ago and now sell half a million litres of the cordial every year. It's available across the country and you can even pick up a bottle of Baldwin's Sarsaparilla in some Tesco's and Sainsbury's.
There's not much you can buy for 20p nowadays
However, sarsaparilla is still only a fraction of Baldwins' international business. "Our website is our window to the world" declares Steve who's kept the company moving with the times – producing their first mail order catalogue in the 80s and launching their website in the 90s. "We send our herbal products, and much more besides, to nearly every country you can think of. We've even got a Japanese language website" he adds. Although the Walworth Road shop, along with the health food store next door, is still very much the heart of Baldwins.
Steve is proud of the fact that the shop still has the original large wooden drawers, used for storing herbs in alphabetical order, dating back to 1844. When they carried out a refurbishment six years ago he went to great lengths to make sure it was in keeping with how the shop was in his father and grandfather's day. He employed specialist shopfitters to replicate the old round glass hanging lights and kept as many other traditional features as possible.
Like many places in the Elephant, Baldwins is very much a family business. Just like their father before them, Steve's children Andrew, 28, and Nicole, 21, have helped out on Saturdays and during holidays since they were teenagers and Steve's wife still does the window displays. So what does the future hold for Baldwins?
Steve recently turned 60 and has been giving it some thought. "Will my kids follow me? I doubt it" he says candidly "but Baldwins will keep going whatever. I'm very lucky to have great staff, with many years of experience, and I'm building up a management structure so everything can carry on without me. "Whatever happens, we'll continue to maintain the standards that were laid down by my grandfather and father, offering a personal service and good quality products at a competitive price". "Including the bargain sarsaparilla?"
"Of course!"
Read more about the people who live and work in Elephant and Castle
A version of this article was first published in the Elephant Magazine, Autumn 2014