Manor Place is named after the Manor of Walworth (specifically the manor house). The Domesday Book (1086) describes the manor as "five hides" in area; enough land to support five families or to produce £5 in taxes.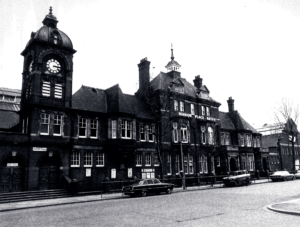 In the 11th century, the manor was gifted to the monks of Christ Church, Canterbury, who leased it out for a yearly rent. For centuries, the Lord of the Manor of Walworth paid the monks and their successors for the right to farm the land and, for many years, each Walworth resident had the right to graze two cows and a horse on what's now the site of the Aylesbury estate. The lord was an influential figure and the manor itself was covered by "rights of justice", which meant he could exert a degree of legal authority (for example by fining local brewers for short measures).
The manor house once stood at the intersection of what's now Manor Place and Penton Place. Records show that in the 18th century it had three main rooms: a hall (for a dining-cum-living space); a kitchen and an upper room where the lord and his family slept. There was also a barn, a stable and a dovecote to house pigeons.
Until 1750, London Bridge was the city's sole bridge across the Thames. This inhibited the development of outlying areas such as Walworth. However, the opening of Westminster Bridge, shortly followed by Blackfriars Bridge, brought about big changes and a new, burgeoning population.
Over time, Walworth was transformed, first from farming village to prosperous Georgian neighbourhood and then later, into a crowded urban slum.
By the time that Charles Dickens was hitting his stride, conditions were pretty bleak. His 1836 collection of essays, Sketches by Boz, would shine a light on the problem; particularly the lack of sanitation in overcrowded housing.
For the most part, Walworth's housing lacked dedicated bathrooms and hot running water until well into the 20th century. For most people, taking a bath involved heating a large amount of water on the stove and pouring it into a tin bath that several members of the family might share. Otherwise, you might have a "wash-down" – standing in a smaller container and pouring water over your head – or simply a wipe down with a wet flannel.
laundry day and bath day were often one and the same
There were similar problems with doing laundry. As clothes and linen had to be scrubbed by hand with soap, laundry day and bath day were often one and the same!
The lack of basic sanitation facilities had knock-on effects for public health. In an effort to improve conditions for the local population, the vestry of Newington built the Public Baths and Wash Houses in Manor Place.
Work began in 1895 with a grand opening in March 1898.
The complex contained three swimming pools; originally a first and second class pool for men and one for women (mixed bathing was introduced in 1904). It also had 72 individual bath cubicles (most of which were originally for men); showers and a public laundry.
At the time, Manor Place Baths were amongst the biggest and best in London; so big, in fact, that the rector of Newington reflected that some observers might think they were too big.
The Baths provided a valuable service. Not only were they a means to keep clean, but they offered people some much-valued privacy (generally missing from their day-to-day lives). They were an affordable luxury that could make a hard week at work a little easier or provide the first pleasure of the weekend.
The laundry had an impact beyond its primary purpose, too, helping to strengthen a sense of community as neighbourhood women swapped children's clothes and traded advice while they finished the weekly wash.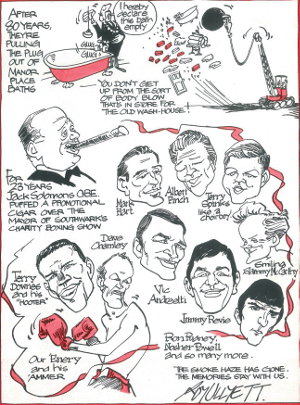 The Baths also provided an opportunity for exercise, and it wasn't just swimming; as Manor Place was soon to earn its place in the hallowed history of British boxing.
The first class baths were designed to be covered over with wooden flooring in the winter; presumably to save money on heating or because of a lack of demand. This meant that the space could be used for other pursuits; including boxing.
Boxing has long been important to the area, with world-famous venues for training and competition located close-by; including the Ring on Blackfriars Road and the Thomas a Becket pub.
Manor Place saw its first bout in 1908 and went on to host a roll-call of the famous and infamous, including the Kray twins. It became so well known that when the BBC began to broadcast boxing, they chose Manor Place as their first venue.
The Baths' most treasured boxing tradition began in 1936 when a group of locals, including pub landlord Jack Burnett, tailor Dave Lyons, and local shop-keeper Joe Collier, decided to raise money to send local kids on a seaside holiday. They held a charity boxing match at the Baths, which would go on to be an annual event.
For more than 40 years, The Metropolitan Borough of Southwark's Charity Boxing Committee organised the bouts, which saw the cream of the boxing world come to Walworth, giving locals the chance to see top-flight, professional boxing on their own doorstep.
By 1975 the council had begun to rethink its role in providing subsidised laundry and bathing to an ever-decreasing number of people, especially when every home in the borough was expected to have a bathroom by 1980. Manor Place had structural issues and a new leisure centre nearby offered better facilities for swimming. So, after one final Mayor's Boxing Show in April 1978, the Baths were closed.
The building fell into disuse for many years, until English Heritage awarded it Grade II listed status and added it to the Register of Buildings at Risk in 1996.
In more recent times, it received something of a reprieve. The Buddhist group Kagyu Samye Dzong renovated the building in the early 2000s and leased it as a meditation and complementary health centre until 2010. And, in 2013, Notting Hill Housing bought the Baths along with the recycling depot, next door. Both the baths and the depot are being converted to housing and a new street, Angel Lane has been created as part of the Low Line.
However, in a tribute to its glorious past, one final boxing reunion was held at the Baths in 2018. The event was arranged by the Essex Ex-Boxers' Association as a fundraiser for the families of light-heavyweight Scott Westgarth and former middleweight Herol Graham.
The event commemorated the legacy of everyone who'd fought at Manor Place and provided a fitting send-off to an iconic venue that will now continue to serve the local community for generations to come by providing much-needed housing, including new affordable homes, on site.
A version of this article was first published in the Elephant Magazine, Summer 2018